by Kate x Paul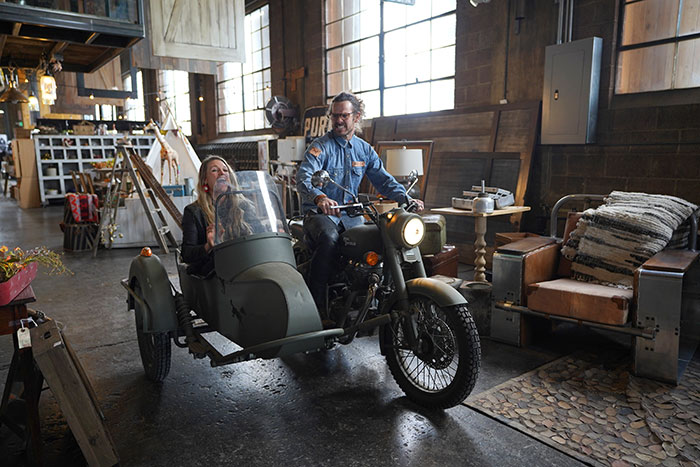 First off, THANK YOU so much for all of your support! Thank you for watching the pilot special to our (fingers crossed!) new 12 episode show, called Rustic Remodel. Our last airing of the show is this Thursday, April 11th at 11 pm EST/8 pm PST. Watch it together with us and the rest of the Rustica family! Set your DVR and make sure to watch it at least once after you record it, and within 3 days, because according to the rules, re-watching the show all the way through without turning it off early counts for some big points for us!
Since we first started having conversations about filming we have gotten a ton of questions about the pilot, how it came to be, behind the scenes stuff, and how everything fell into place to get this new adventure launched. Here are the most commonly asked questions about our adventure:
How did you get selected to do this show?
Paul:
Rustica was at a builders trade show in our "cabin booth" when the founders of HGTV came along asking about our over the top way to display our doors and hardware:). That was the beginning of a long relationship with Max Z. and his father Jim, who branched off and started a new media company and helped us land the pilot special with A&E's Home.Made Saturday morning special and with FYI. As I am thinking back to this, I am amazed it was actually 4 years ago when I first met Max and Jim! Good things take time.
About long did it take to film the 40 minute pilot special?
Kate:
I remember our director Jed saying he and his team were pouring through 200:1, which I learned means they had 200 hours of footage but only needed 1 hour!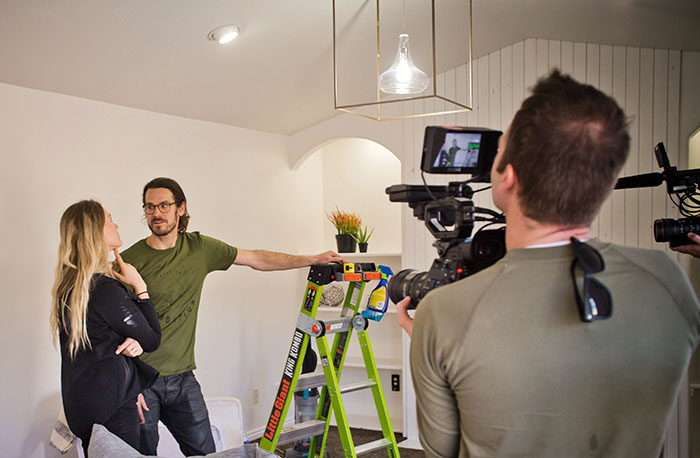 How did you find the right family for this pilot of Rustic remodel?
Kate:
We posted on Facebook and Instagram and asked everyone we knew to submit names of families looking for an inspiring remodel of their space. The Jenkins came into the showroom looking for some by-parting french doors for their office and told us about their home and their dreams to remodel it and it was like we instantly knew Stacie and Eric were the ones! What a cool couple! We talked for hours about their fun travels all over the world, how much they love music, what inspires them and why they needed a remodel. This part of the show was honestly one of my favorites. I loved getting to know the Jenkins more. I learned that Stacie and I both raised our kids on Play-Doh:). Stacie told me all about when her kids were younger how they would spend hours sculpting and smooshing Play-Doh through little fingers. I love gathering my 4 kids together for Play-Doh as well. My oldest daughter and I make huge batches of homemade Play-Doh and with the other little ones we have Play-Doh contests and sculpting "shows". I will never forget how Stacie dropped off her favorite Play-Doh recipe for me just a few days after we met. Working with the Jenkins was an absolute pleasure and we thank them wholeheartedly for being a part of this!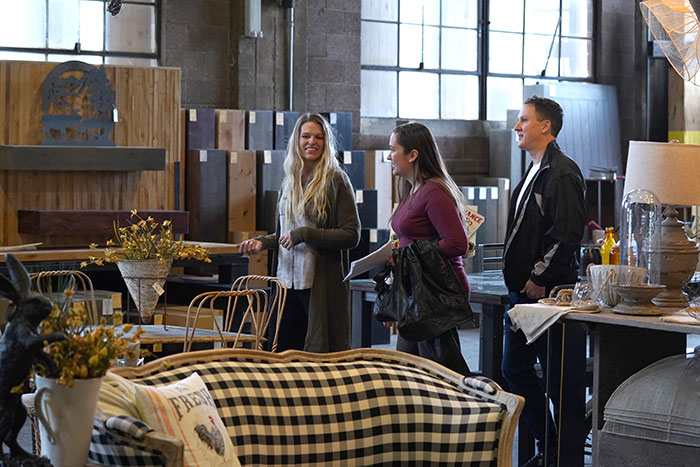 Was it weird to have the camera crew following you around for 200 hours?
Kate:
At first I was so nervous and jittery. It actually took about 2 full days of shooting to finally realize how much easier it would be if I would just pretend the cameras weren't there which is the advice everyone kept giving me but I didn't realize how true it was! The other thing that was kinda weird was that Paul and I always had a microphone on, although hidden, it was there. I remember one conversation we started to have and then we both realized everyone was listening and we started using hand signals and facial expressions and kinda trying to whisper... It was hilarious and didn't work well. That didn't make the final cut whereas other moments needed to be cut because we were rushing in and out of bathroom breaks with the mic still on, lol.
Paul:
I think it was very weird for them but not me as I tend to make uncomfortable situations unbearable and like it.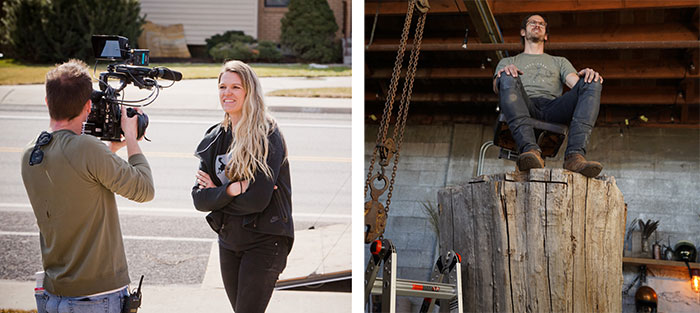 What was your favorite part about filming the show special?
Kate:
It was a total adventure! Every day was something new. Paul and I had filmed short install videos together but nothing like this. I was super nervous the first day on the set. I remember having the biggest tacos (that's the term Paul and I use for major underarm sweat.... I am going to also blame this on my answer to "What was the hardest thing about this project" question :). You can actually see my sweaty tacos in some of the video and pictures but I think everyone can relate with that and so far no one has said anything about it, lol.
Paul:
My favorite part was working with Kate like the good ol' days. Sometimes working together with how large our company has grown means that Kate is in one place and I am in another, even in another building. Even when we are working towards the same goal we don't always get to hold hands but filming allowed us to be side by side for many hours laughing at ourselves and creating together.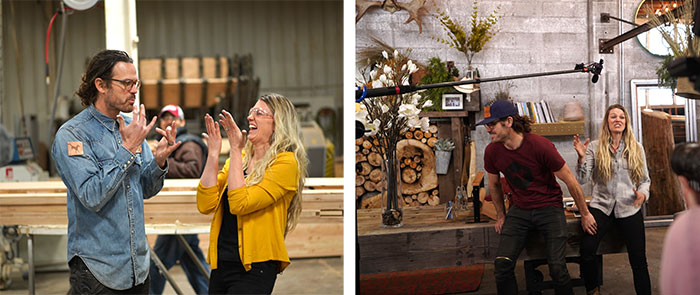 What was the hardest thing about this project?
Kate:
I had made a pact with some girlfriends that I wouldn't shave my armpits until the show aired. That was definitely the hardest thing, lol. In case you were wondering if I had the willpower to keep my end of it, I didn't, I caved, haha!
Paul:
It was hard getting through the post production. It stressed me out! We wanted to make sure the story was told in a linear flow so that the audience could follow it easily.
What was cut from the final show that you wish made it in?
Kate:
I wish more time with the kids would have made it in. Most of the work I do day-to-day for Rustica involves them. They help out so much and I wish I could have shown more of the hard work they put in. Running a business as a family takes everyone's help. Oh, and I really wish the short conversation about me asking Paul why he keeps calling strawberries " strreauuuwberries" would have been there! Paul is always making up unheard of words and silly phrases that keep us laughing and this was one of them. So, just to clear up many misunderstandings and questions we have gotten, Paul was kidding about calling strawberries "strreauuuwberries". Or was he....
Paul:
Me dragging a log that Kate and I cut and milled together. That entire scene was cut. I was driving the snowmobile and Kate had to ride on the back of the sled that was carrying the log. It was so fun and funny. I will have to dig that footage out and post it on another blog.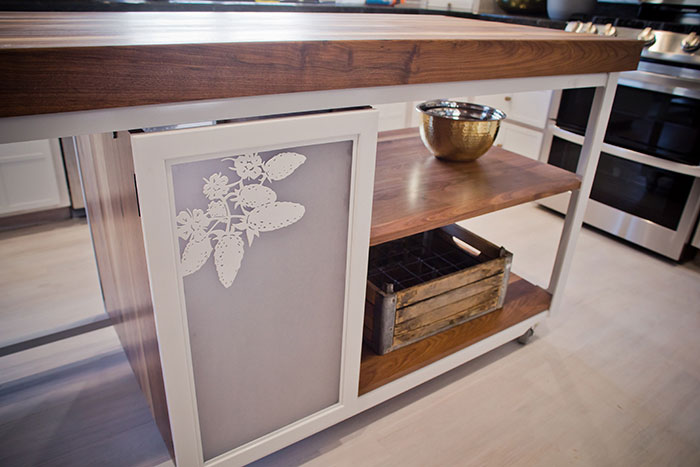 What will you do differently for the next episode?
Kate:
I am so excited to film the next episode! I will definitely take more of my own pictures and video of the adventure Paul and I are having together. The other night Paul and I stayed up late watching an old video of our kids when they were super young and we cried and laughed and loved the moment of reminiscing together. I know that I will be doing that again in the future and dreaming about when Paul and I were "young".
Paul:
Be even more ridiculous or in other words myself.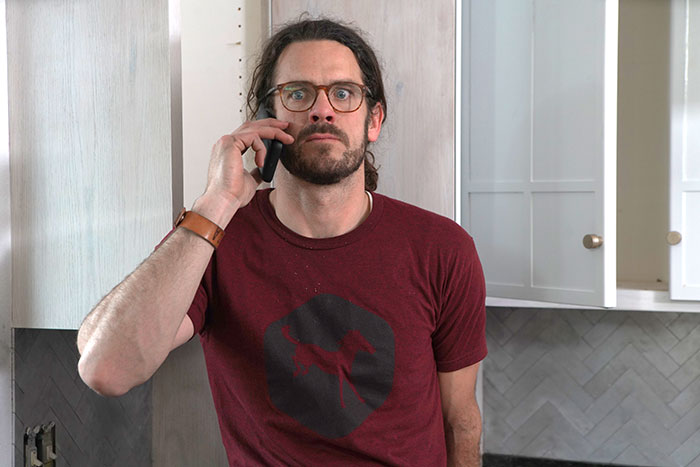 So remember to set your DVR now to record our show on April 11th at 11 pm EST/8 pm PST on FYI. For more information on Rustic Remodel, click
here
.