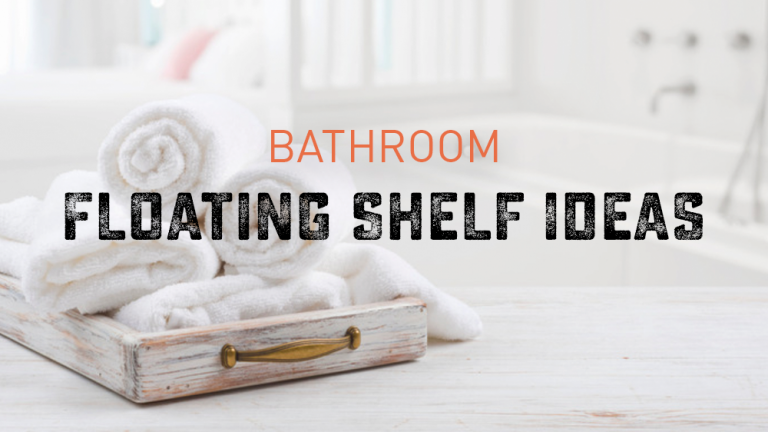 Floating shelves are like design magic. Not only do they work as a practical platform to showcase useful or decorative objects — but they help maintain organization and look good in the process! Whether you want to up your storage game or add visual appeal to those barren walls, floating shelves can do it all.
With so many different styles and sizes, the versatility of floating shelves is easy to appreciate. One room that can benefit greatly from a floating shelf (or three) is your bathroom. Often, space is at a premium and this room requires some creature comforts to make it a functional, yet relaxing space.
Check out these awesome floating shelves for your bathroom, along with some ideas and decorating tips for your home's personal oasis.
Bathroom Shelving for Too Big or Not-Too-Big Spaces
It's foolish to think that all bathrooms are one-size-fits-all. Some feel like huge cabanas while others could pass for glamorous Port-a-Potties. Since every bathroom is different, it's vital that your décor fits the space.
Open shelving for your bathroom helps make the most of that space. Added space for extra towels and TP? Check. Want to display your bath salts and fizzy bath bombs in decorative canisters? Check. A small shelving unit for quality bathroom reading material? Check!
Floating bathroom shelves give a small space some big personality — particularly if you don't have added space in your bathroom for more cabinets. For larger bathrooms, floating shelves can make great use of the space to create a cozier, more luxurious feel. Better yet, access what you need, where you need it — stylishly and conveniently!
Staggered Floating Bathroom Shelves: Perfection = Imperfection
Linear shelves have their time and place when it comes to vertical organization. And if that's your m.o., then, by all means, go ahead and stack those shelves in perfect symmetry for a clean, minimalist look — whether it's layering your bathroom floating shelves over the toilet or sink.
But for those of you that don't have that nagging OCD voice in the back of your head, try an intriguing staggered design with your floating shelves. It can help you take decorative advantage of more wall space and help you better prioritize your décor scheme hierarchy.
Whichever method of motif madness you choose, it's sure to look shelfcellent. That's right. It'll look so good that you have to make up a word to describe its excellence.
Choosing the Right Style of Floating Bathroom Shelving: Materials & Shapes
Just like any other piece of décor or furniture in your home, the most fun (and challenging) part about bathroom floating shelves ideas is pinpointing what kind of materials will fit your style.
Are you opting for clean, finished floating wood shelves for that throwback vintage vibe? Or going with glass shelves for a more contemporary take? Maybe you're looking at rustic floating shelves for a more lived-in look: Think weathered wood with wrought-iron or metal accents.
While you're at it, don't just stop with your material — think about the overall shape of the shelves you choose to provide ultimate ambiance. Shelves can be as unobtrusive as a simple wood slat or as intricate as an ornate piece with railings, lips, patterns and more. You know your home's bathroom style better than anybody, but just know that there's an option out there for you – whatever your style may be.
Floating Bathroom Shelves with Built-in Drawer Space
Bathrooms can run tight on space, especially in older homes. Yet, that doesn't mean your storage has to follow suit. Some floating shelves have a thick enough bezel to act as built-in bathroom storage to house everything from toothpaste and contact lenses to makeup and other toiletries. These bathroom cabinets/open shelving are a perfect mix of fashionable and functional: Storage on top. Storage inside. Admire it all around!
Open Wall Shelf Kits for Your Bathroom
Maybe you're all about eclectic style and a traditional floating shelf/bathroom floating shelves ideas just isn't doing it for you. Well, rest assured there are some more off-the-wall (literally) ideas to play around with.
There are bathroom open wall shelf kits on the market that come equipped with wicker baskets that can be used as added shelving (and hiding some more unattractive items, like spare rolls of TP or mouthwash), plus more open, three-dimensional space to pop out from the wall for decorative items.
Whatever your reasoning – style, storage or a combination – floating shelves in a bathroom can transform your powder room from a necessary place to a desirable space for you and your guests.