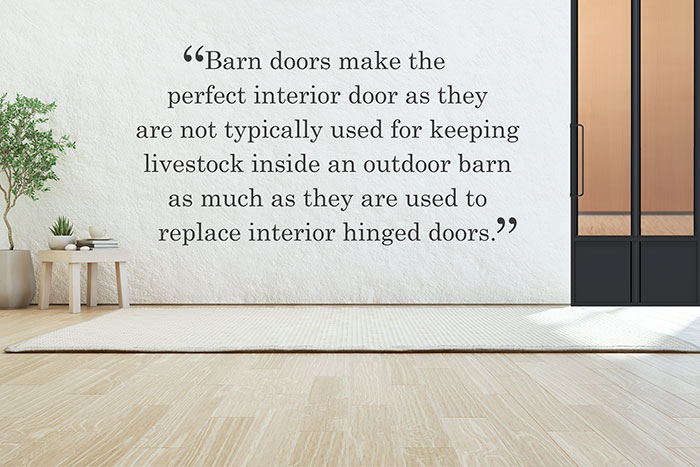 Barn doors make a functional art statement. While having barn doors on exterior doorways is a possibility, it is not the most recommended application. Barn doors started out on exterior barns and shed structures. These exterior barn doors were typically made from exterior grade wood treated for exterior use against the elements. Cedar or fire-treated wood works best for exterior barn doors. Interior barn doors are typically made from knotty alder, pine and poplar. Barn doors make the perfect interior door as they are not typically used for keeping livestock inside an outdoor barn as much as they are used to replace interior hinged doors.
Our top favorite ideas for indoor barn doors are:
Mirrored barn doors. These are perfect for bedroom or closet doors.
French style barn doors with glass. This barn door style adds natural lighting.
Barn door rollers attached to artwork or a frame to hide a wall safe.
Barn door shutters. These work great for inside the home or outside.
Bypassing barn doors for closets. Shutters save space in a small bedroom.
Bi Parting barn doors for the kitchen pantry. Small doors roll to each side of the door opening for easy access to food storage and pantry necessities.
Our innovative bypassing barn doors and barn door hardware options can be found here:
https://rustica.com/lightduty-bypass/
.
Frequently asked questions about Barn Door Bypassing Hardware:
Why would I use a bypass system rather than just a single door or a biparting system?
The bypass system allows for your doors to slide in front of and in back of each other which can save a lot of space. If you do not have enough wall space on either side of your opening to slide either one large door onto one wall, or two smaller doors in opposite directions, the bypassing system may solve your problem. With this system the doors can stack one in front of the other, requiring far less wall space.
How much room do I need above my door for the bypass brackets?
For the bypass brackets, you need at least 7 or 8 inches above your door opening. But, the brackets will need to be installed onto a header board or installed directly into studs. The standard bypassing bracket doesn't require a header board. The flat track low clearance bracket is wider than the studs and will require a header board. The J-track ultra low clearance bypass bracket doesn't require a header board. A piece of 1x 6, 1x8 or 1x9 solid wood board, makes a great header board.
How much depth or projection will the bypassing system require from my wall to the front of the top door?
The whole system will project about 5 1/2 inches deep from the front of your top door back to the surface of your wall. You will have some space between doors, so keep that in mind when you set up your system.
Will the doors move together?
Yes. You can add a wall mount door guide on the back door as a "come along" device, so that it catches on the front door as it is either closed or opened. This allows the two doors to slide along together when being opened or closed. The door guide and two end plates are used as a simple solution to allow the doors to move together. There are great detailed instructions on installing your "come along" system in our instructions.