Sliding
barn
doors
are a hot trend in interior design and home improvement. These versatile doors can easily be used throughout your home to create a unique look. If you're looking to revamp your decor, there are many places where you can install an
interior
barn door
.
8 Places to Install an Interior Barn Door
Living Room
Kitchen
Bedroom
Closets
Bathroom
Laundry Room
Playroom
Basement
While
barn door
styles
and trends started primarily in the bedroom and
living room
, the evolution of the
sliding
barn door
has transformed it into a solution that can be used throughout your entire home.
Barn
doors can offer many benefits to your home. Not only do they make a unique statement, but they are also a good alternative to traditional doors when you are pressed for space.
Door
swing can take up a significant amount of square footage and dictate the layout of your furniture in a
room
. With interior
barn
doors, this is no longer a problem.
1. Living Room
Adding an
interior
barn door
in your
living room
can transform your existing decor. A
modern
barn door
can be used to partition the
room
, which can be especially helpful in open layout floor plans. However, these doors can be used for more than simply dividing a space.
Add a Touch of Style
The popularity of interior
barn
doors has exploded over the last decade. As a result, the
barn door
is now being made using a wide range of different
barn door
styles
and materials, giving birth to new
barn door
styles
and
barn door
ideas
. One popular trend is the use of
barn
doors made from
reclaimed wood
with shiplap, giving the
room
a rustic look. Another popular trend is the use of glass
barn
doors with more subtle
interior
barn door
hardware, creating a more
modern
barn door
feel. The unique combination of materials and
door hardware
can add that touch of style you were missing in your decor.
Easily Hide Exposed Shelves
If you don't need to divide your space but still want to incorporate interior
barn
doors into your decor, consider using one to quickly and easily hide exposed shelves. By using a
barn door
over an exposed bookshelf, you can easily slide the
door
closed to make the
room
look polished and tidy. This also works with entertainment centers. When it's time to Netflix and chill, simply slide the doors open to watch your TV.
Small Scale Barn Doors
If you have small windows in your
living room
, you may want to choose
barn door
shutters
as your
window treatments
rather than traditional curtains or blinds. This helps you achieve the rustic
barn door
style
on a smaller scale. And since the
barn door
shutters
open the whole way, they can let more natural light into your space.
Barn door
shutters
are also a popular option for
bathroom
windows.
2. Kitchen
While the kitchen may not be the first
room
that comes to mind when thinking about installing an interior
sliding
barn door
, there are several different ways that they can be used to make the space more functional and appealing.
Conceal Your Pantry
Whether your
pantry
is the size of a small
room
or simply an oversized cabinet,
sliding
barn
doors
are a great option due to their small footprint. Since the
door
slides, you don't have to worry about
door
swing. This means you don't have to worry about someone opening the
door
when you're taking a hot pan from one side of the kitchen to the other.
Make Unique Cupboard Doors
You can also use a smaller
barn door
panels
to create unique
barn door
cabinet doors. This can create an interesting look in your kitchen, making it look clean and polished.
What sizes do interior
barn
doors come in?
Typically, a
sliding
barn door
comes in widths of 2'-7' and heights of 5'-9'. However, when it comes to cabinets, this can be too large. If you want to achieve the same
barn door
style
on your smaller cabinets, Rustica can create high-quality custom-sized doors to meet your needs and fit cabinets of all sizes.
3. Bedroom
Sliding
barn
doors
are a popular choice in bedroom decor. They take up little space, which is important in smaller bedrooms, plus they are stylish and trendy. Just as with other areas in the home, a
barn door
can be incorporated into a bedroom space in several different ways.
Hide Your En-Suite
A
barn door
can be a great idea to hide your en-suite, especially in smaller master bedrooms. The
barn door
can easily slide open to reveal the
bathroom
without impacting the layout of bedroom furniture. With a traditional
door
, the
door
swing often interferes with the layout of the
bathroom
or the layout of the furniture in the master bedroom. Opting for a white
interior
barn door
with modern
door hardware
can bring a spa-like feeling into your master suite.
Enhance Your Wardrobe
Whether you
have a walk-in closet or a regular closet, your wardrobe is one of the most important parts of your bedroom.
Barn
doors can provide easy access to all of your clothes, shoes, and accessories. With traditional
sliding
doors
, you are limited to one side of your closet at a time.
Sliding
barn
doors
can be installed as a single
door
or double
door
to help you see your entire wardrobe at once. Choosing
sliding
barn
doors
for your closet can enhance the overall design of your space to match your refined style.
4. Closets
One of the biggest problems with using a traditional
closet door
is the
door
swing. It either has to open into the closet, limiting what you can store, or opens outwards, and restricts your furniture layout and available square footage in your
room
. Even if you have a walk-in closet, accessing hangers and storage can be problematic with a traditional
closet door
opening.
Sliding
barn
doors
eliminates the issue of
door
swing and gives you more freedom to store what you want in your closet.
The Perfect Full-Length Mirror
Not only can
sliding
interior
barn
doors give you more freedom for storage, but it can also give you a full-length mirror without taking up any valuable floor space.
Barn door
mirrors help you get your look right whether it's for a business meeting or a night on the town. Using mirrored
barn
doors can also help make your space seem larger.
Bring in Style
Sliding
barn
doors
can also be used to add another element of
barn door
style
in your closet. A variety of interior
sliding
barn door
hardware
is available to suit many different styles. If you're looking for a rustic vibe in your bedroom, you may opt to go with traditional
barn door
hardware
with a spoke wheel roller. For a more subtle
barn door
style
, you could choose a box track or no show hardware. No matter your preferences, Rustica has the right
sliding
barn door
hardware kit
to help you achieve the style you want.
5. Bathroom
The
bathroom
is another great place to use a
barn door
in your home. With half baths, space is often limited, making a
door
with no
door
swing an excellent choice. Many times, homeowners are concerned that a
barn door
will not provide enough privacy for a
bathroom
. However, if hung properly, they offer just as much privacy as a traditional
bathroom
door
.
Separate Your Toilet Area
In larger bathrooms, there is a trend to separate the toilet from the rest of the
bathroom
.
Barn
doors are an ideal alternative for this given their small footprint. Additionally, by using an
interior
barn door
seal you can give your toilet area the privacy it needs.
Can interior
barn
doors lock?
Yes, you can lock your
barn
doors. It's a common misconception that an
interior
barn door
cannot lock. This is because traditionally, single-hung
barn
doors are often not meant to be locked. However, this doesn't mean that they can't be locked. A single-hung
sliding
barn door
can be locked using a barrel slide bolt, hook and eye latch, entry
sliding door
lock
, or a
tear drop latch
.
6. Laundry Room
While the
laundry room
was once destined to have bi-fold doors,
barn
doors have quickly been transforming this space. There are several reasons that you may choose to use a
sliding
barn door
for your
laundry room
, including lack of
door
swing and ease of use.
Maximize Your Space
Interior
barn
doors can come in a single panel or as double doors. Using double doors in your
laundry room
can help open up your limited space to access your machines. This means you can have full clearance for your front-loading machines without the restrictions of bi-fold doors. Additionally, using a
sliding
barn door
means you don't have to accommodate any
door
swing in your hallway.
Easy Access
Sliding
barn
doors
can offer easy access when they are on a high-quality track. With doors being able to easily slide open, you don't have to worry about struggling to open the
door
with a clothes basket in your hand.
7. Playroom
Barn
doors make for a creative
sliding door
to close off your playroom. Better yet, they can provide a bit of relief for the worried parent's mind. With
barn
doors, you don't have to worry about pinched fingers or slamming doors hurting your little ones. Plus, given that the doors open easily, children can go in and out as they please.
Make it Fun
While
sliding
barn
doors
are often made of stained
wood
finishes, you can also choose a style that will make your playroom fun. Pick a simple style and use bold paint colors to bring life to your
room
. You can also take the look further by choosing a stylish rail and rollers, or you can add a sophisticated touch with a more polished finish, such as brass or chrome.
Make it Multi-Functional
A playroom can often get overrun by arts and crafts and other toys, creating clutter and diminishing your overall interior design. By using a
door
panel made of chalkboard or metal, you can give your little ones a surface to express their creativity without causing your decor to pay the price.
8. Basement
The basement is often an overlooked area of the home that can often be used to maximize your living space. Interior
barn
doors can be used in many creative ways to enhance the functionality of your basement square footage.
Create a New Room
Barn door
panels
can also be used to create a new
room
in your basement, helping you increase your living space. While
barn
doors are often used as a regular
door
, they can also be used to create walls by using bypass doors or by using a ceiling mounted
barn door
track system. Creating a new
room
this way gives you the freedom to open the space when needed.
Hide the Unsightly
Barn
doors are also a great way to hide your storage space. If you already have some walls installed in your basement, consider a
sliding
barn door
to close off the space, concealing your storage area.
Barn
doors can come as wide as 7' for single-hung
barn door
panels
, making them ideal alternatives for wide
door
openings.
How do interior
barn
doors work?
Before you decide on adding
barn
doors to your decor, it is important to understand how they work. An Interior
barn
doors is simply a
barn door
panel that is held in place using special designer
sliding
barn door
hardware. Rails and rollers allow the
barn door
to effortlessly slide back and forth on tracks.
Interior
barn door
installation can be done using a
hardware kit
or they can be professionally installed. Once you choose your
hardware kit
, there are several styles of
barn door
handles that can complement your
barn door
hardware
and overall decor.
How to Make Interior Barn Doors Fit Your Home Decor Style
A sliding barn door is one of the most functional doors to have in your home's interior, and it's easier than ever to match it to your specific style. Rustica's interior sliding barn doors and hardware are completely customizable to match your needs and preferences.
Here's how to get your ideal sliding barn doors:
1. Find One That Fits Your Style Preferences
Finding a barn door that fits seamlessly into your home's interior decor is probably easier than you think. When you shop Rustica.com, you'll find multiple door styles to choose from, allowing you to get one that has all the basic design elements you want. Find everything from a rustic
farmhouse door
to a modern glass barn door.
Browse our options to find a door that matches your home's personality and design. For instance, a modern interior design would welcome a sleek door with geometric elements, like our
Aries Barn Door
. In contrast, our
Classic Barn Door
or
5-Panel Barn Door
would fit right in with a bohemian interior design.
When choosing a door, remember that you can customize its look and hardware, which can transform the entire look. The materials and patterns are the most important features to focus on when finding the right door to use as a base.
2. Get a Custom Door
When you order from Rustica, you'll have several options for customizing the door design. The process allows you to take a
wood door
and transform it into a sliding barn door that looks like it was made for your home. Add a rustic touch with the right stain or wood finish, or make a vintage door by playing around with our texture customization options.
Most of our doors include virtually endless combinations of paint, stain, wood species, and finishes for you to find the right door style for any space in your home. Our wood textures include weathered, worn, and distressed, all of which are helpful in achieving a more traditional farmhouse look.
Our doors can also go contemporary and modern with solid paints, like goose gray and simply white. Or, add some eye-catching detail with barn red, aqua, or abandoned blue finishes.
You can also customize the metal finish and glass type if you're adding interior glass doors. Select a classic finish, like black or raw steel, for the metal framing, or opt for a bold finish with red or white. Palm, overcast, deep freeze, and other glass types create varying levels of privacy, depending on where you want to install your glass barn doors.
3. Choose the Right Barn Door Hardware Kit
Another great way to match your barn doors to the style of your home is by choosing a barn door hardware kit that fits your design ideas. Barn door hardware includes the track, hangers, wheels, and anything you need to install the door securely to the wall. Many of these pieces are visible, so it's the perfect way to experiment with different designs that can transform the finished look of your door.
Suppose you want a super clean style without a lot of hardware showing. In this case, you might choose our
No-Show Sliding Hardware
kit, which hides the track, wheel, and hangers behind the door. However, if you want your doors to stand out more, you can choose a kit like the
Big Wheel Traditional Barn Door Hardware
, with its eye-catching rolling wheel that acts as a statement piece.
Customize your kit just like you would your door. Choose a metal finish, wheel style, and other options to make the kit uniquely yours.
Unique Barn Door Styles for Every Home
Whether you love hopping on the trend train or you prefer marching to the beat of your own stylish drum, the barn door is a way to embrace flawless style and functionality in your home. Not only is the barn door a functional way to separate rooms and living spaces, but the barn door also provides an opportunity to express personal style and bring artistry into your home.
Explore these unique barn door styles and then contact us at Rustica Hardware to craft the perfect fit for your home.
Embrace Practicality: Mirrored Barn Doors
We've all fallen in love and become completely dependant on the mirrored closet door. These doors make any room look bigger and provide practicality when getting ready for the day. Replace standard, mundane, six-panel closet doors with sliding mirror doors.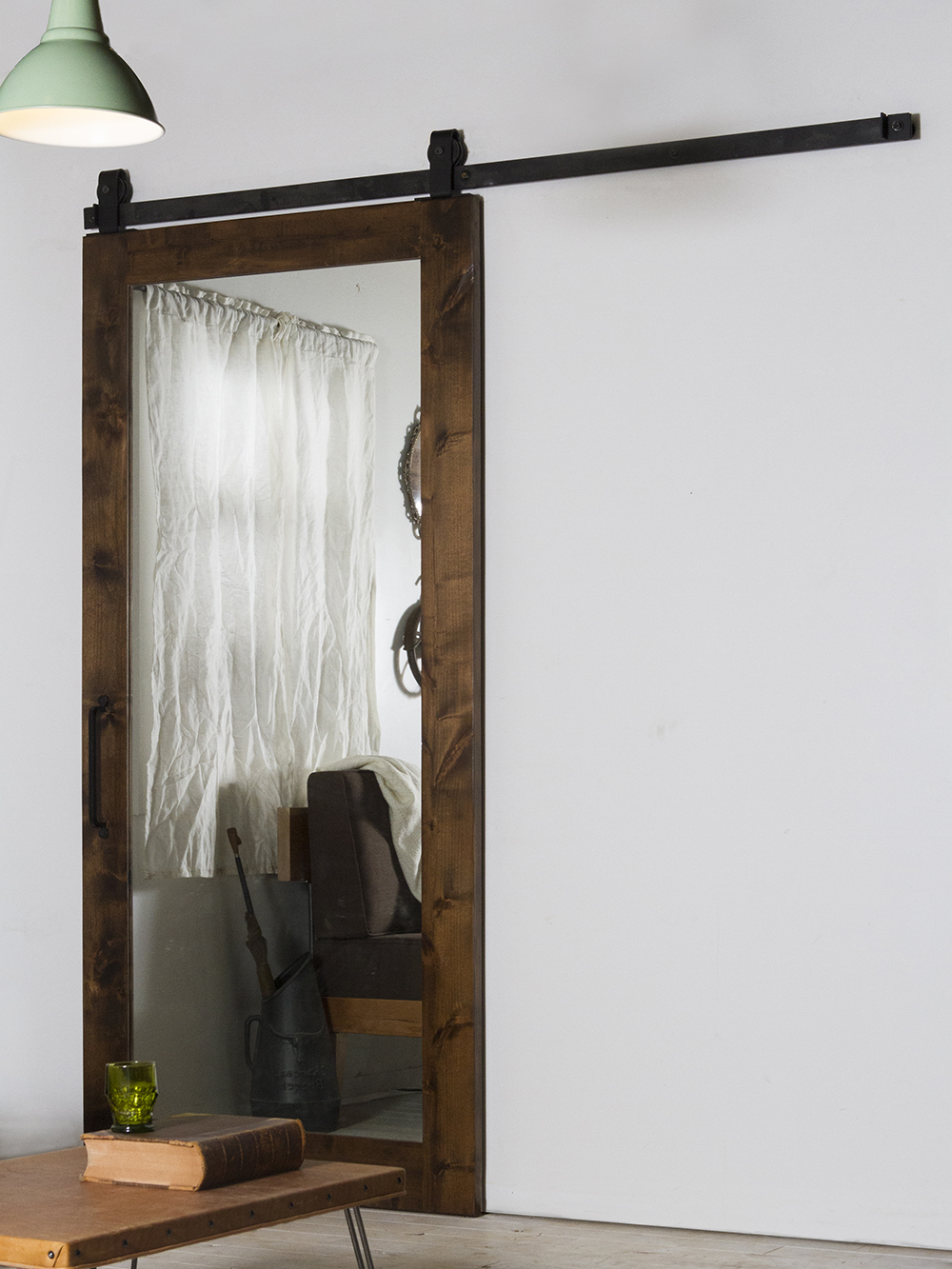 Keep an Eye Out: Barn Doors with Windows
Not ready to separate your space completely? Let's install barn doors with windows. Design your new doors with paneled windows or large windows, clear glass or frosted glass. Maintain some semblance of separation without completely cutting off your access to other rooms with windowed doors.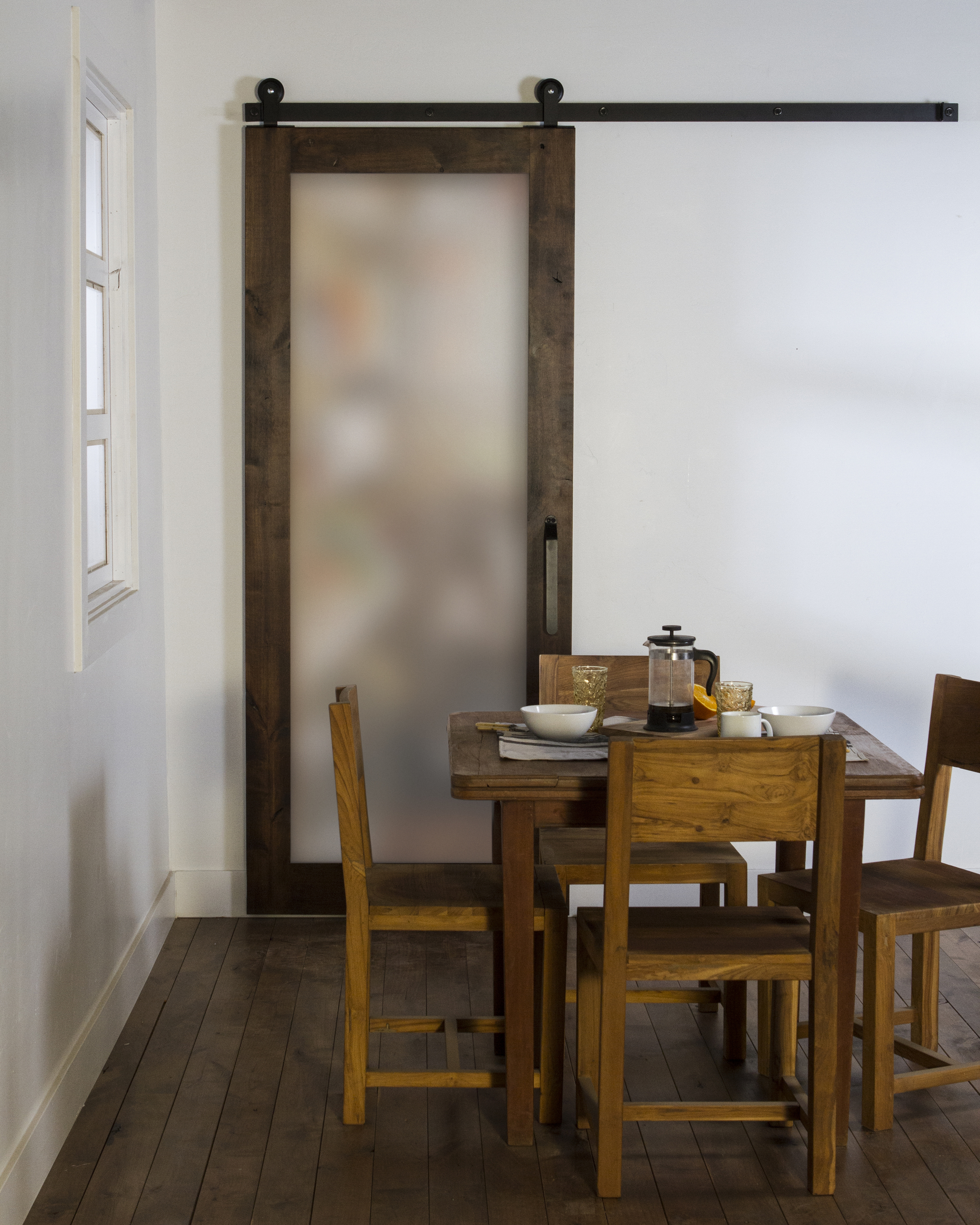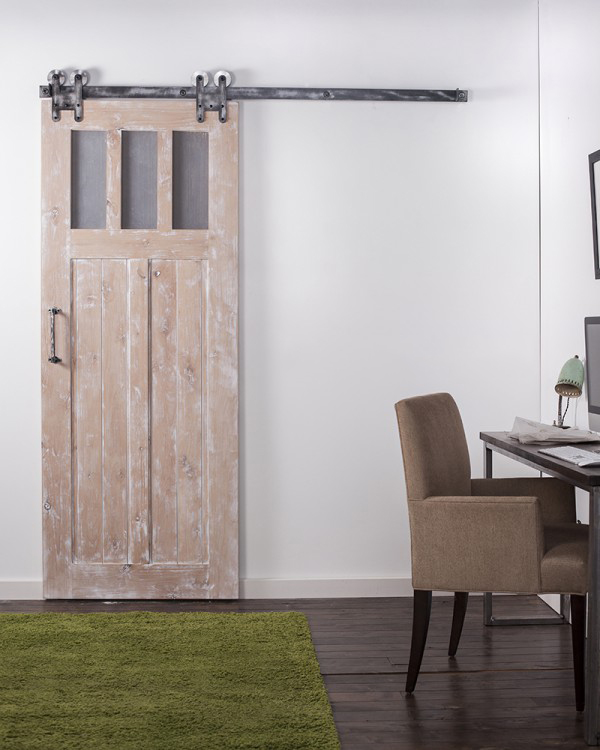 Maximize Space: Swinging vs Sliding Barn Doors
A huge advantage of sliding barn doors is that they maximize the space in your home. You can stop worrying about tight corners and awkward spaces by replacing swinging doors with a set of sliding doors on an exposed track. The track evenly distributes the weight of the door, enabling you to select a sturdy door that fits the style of your home.
If you love that grand feeling of swinging open a set of double doors, find a lighter set of doors that will hold up on hinges and still match your family's unique style.
From Wood to Metals to Chalkboard Surfaces: Unique Barn Door Materials
When you think of a barn door, your first thought is likely of a thick, sturdy door made of distressed or repurposed wood. While wood is traditional (and versatile!), explore other creative materials for your custom barn door. Choose practicality with the chalkboard door, or embrace an edgier attitude with a metal surface door.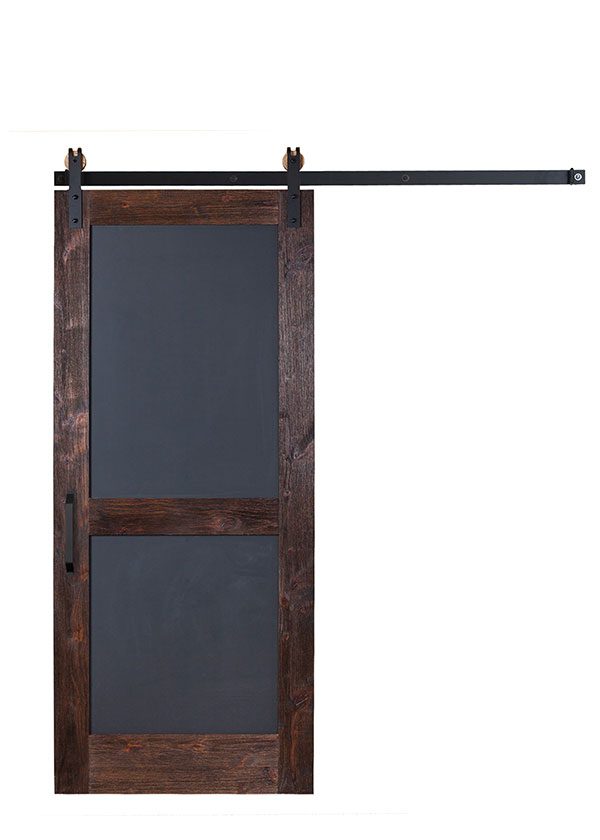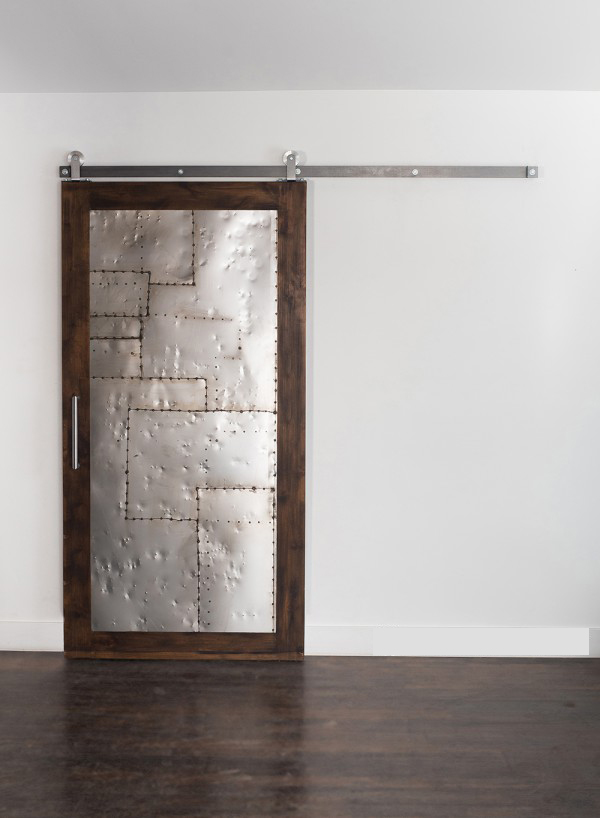 Brace Yourself: Barn Door Bracing Styles
Looking for a standard barn door? Take a look at the different types of door bracings that speak to different styles:
Plank Barn Doors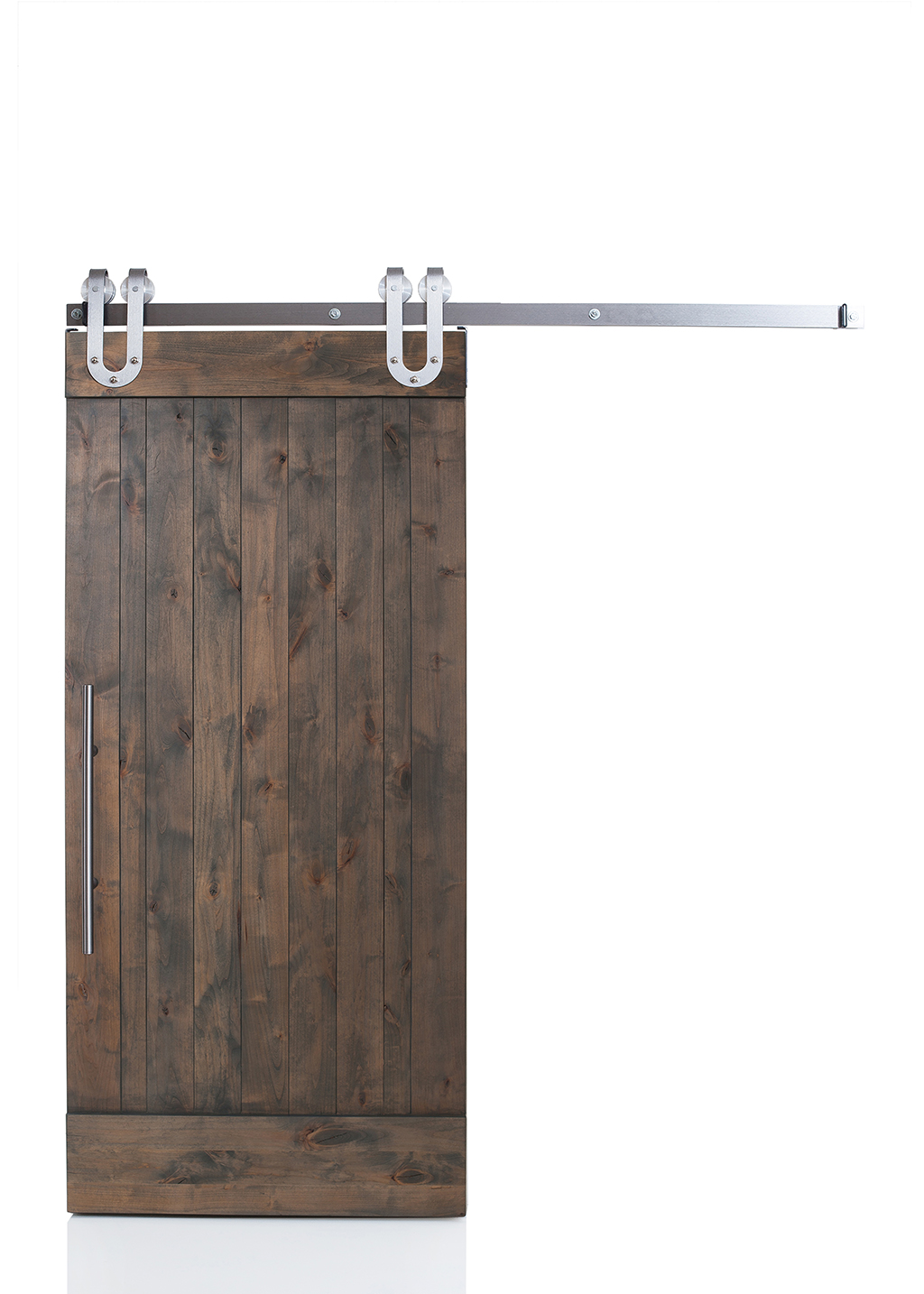 Mid-Bar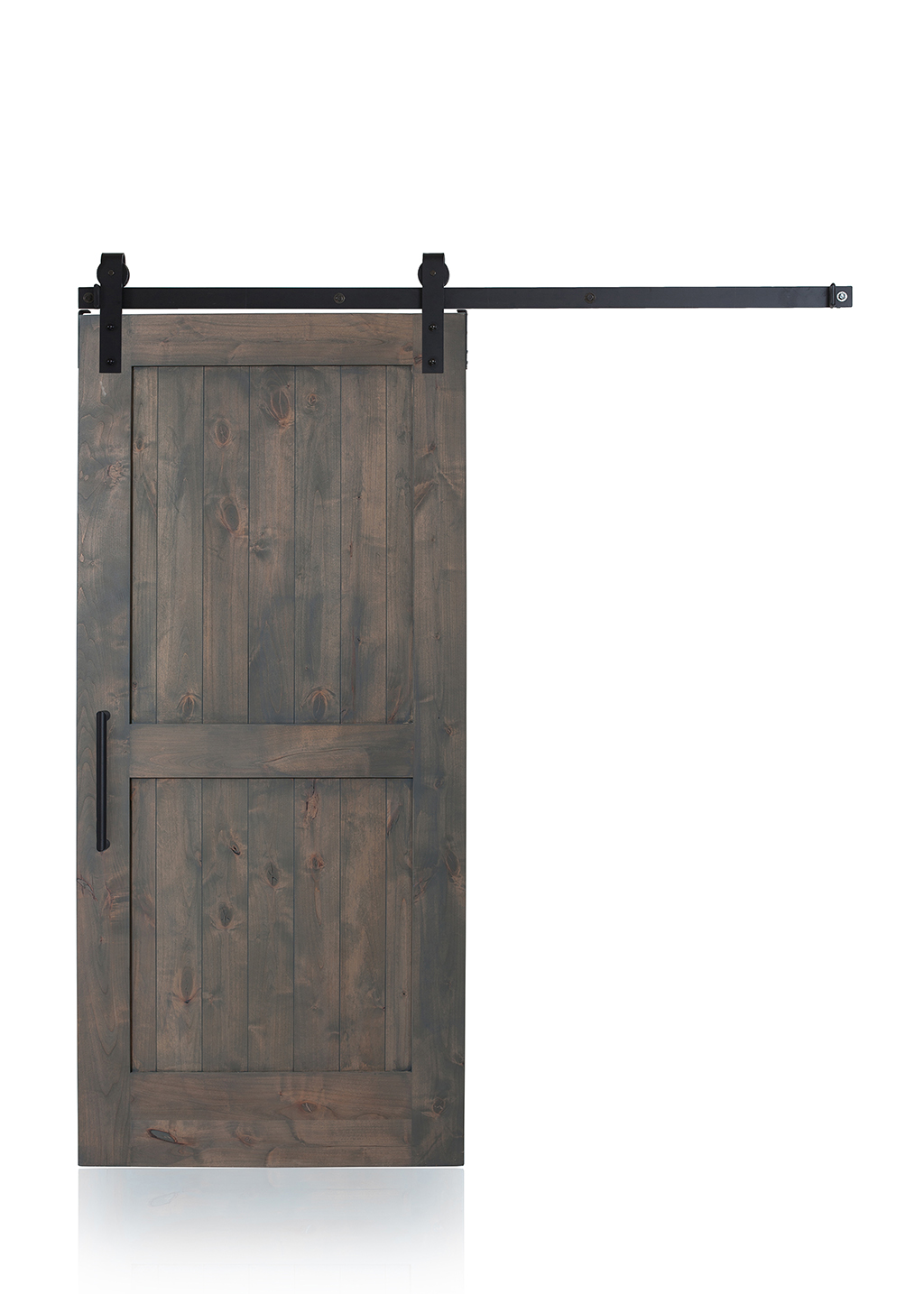 Z Barn Door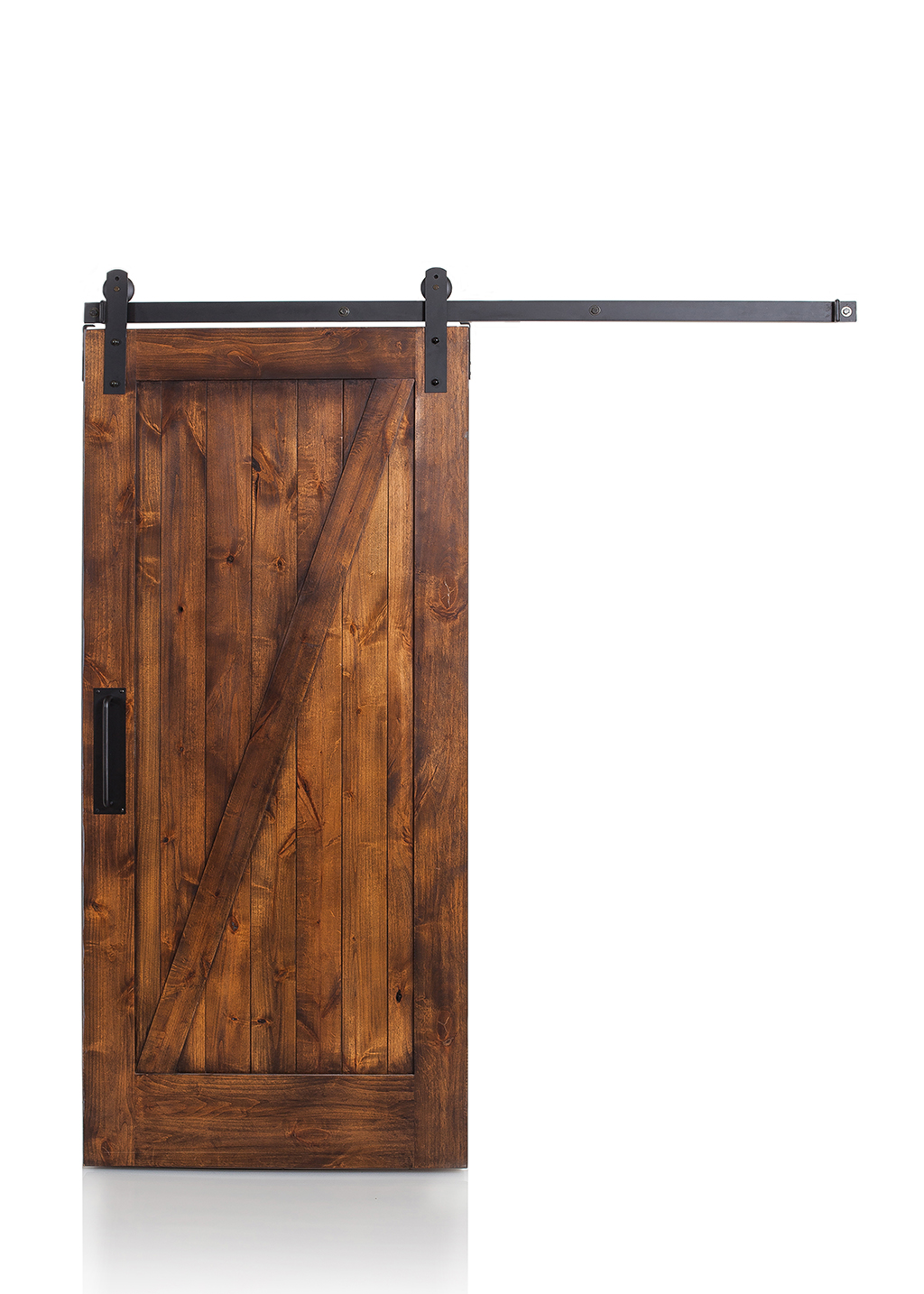 X Barn Door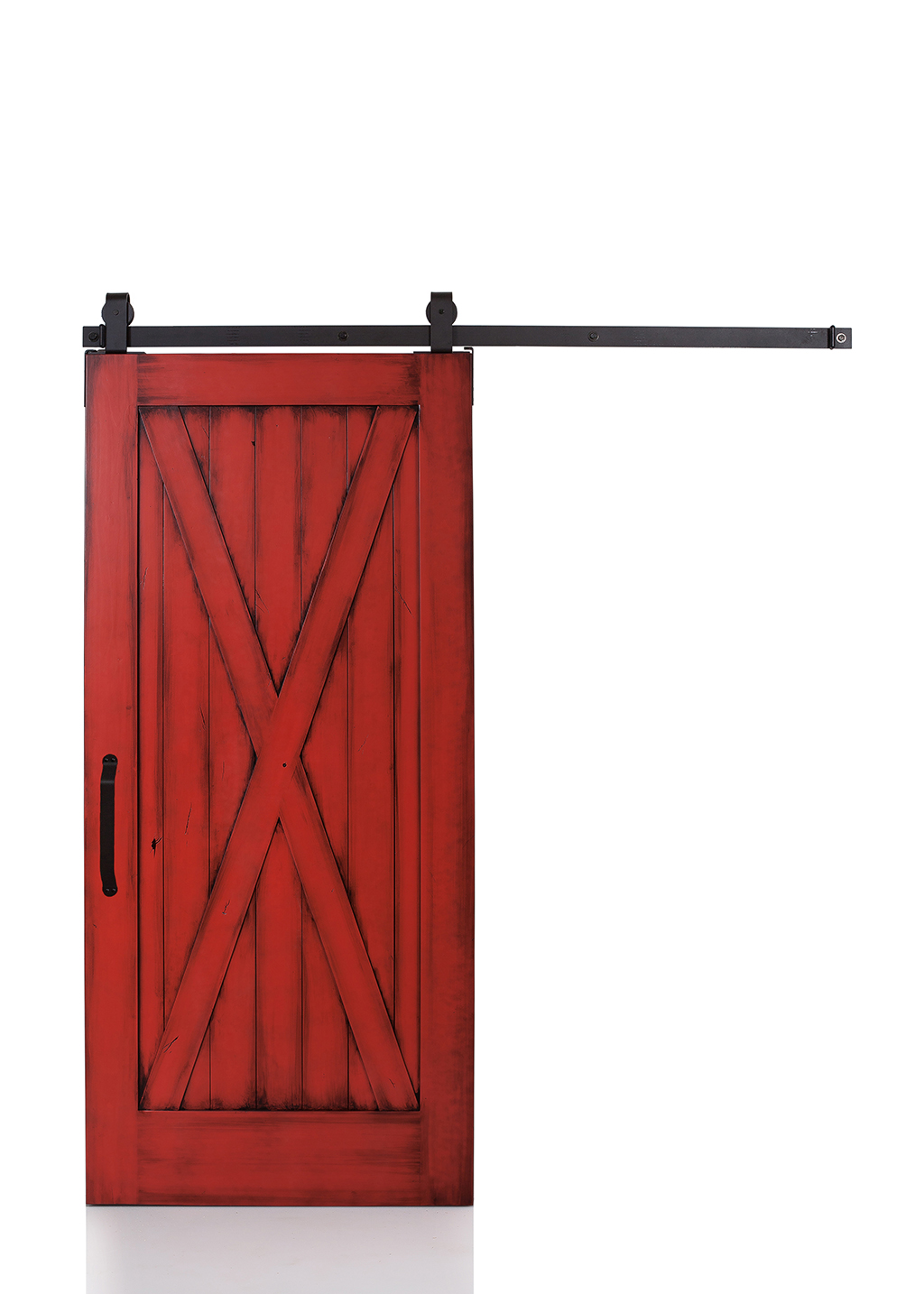 Double X-Brace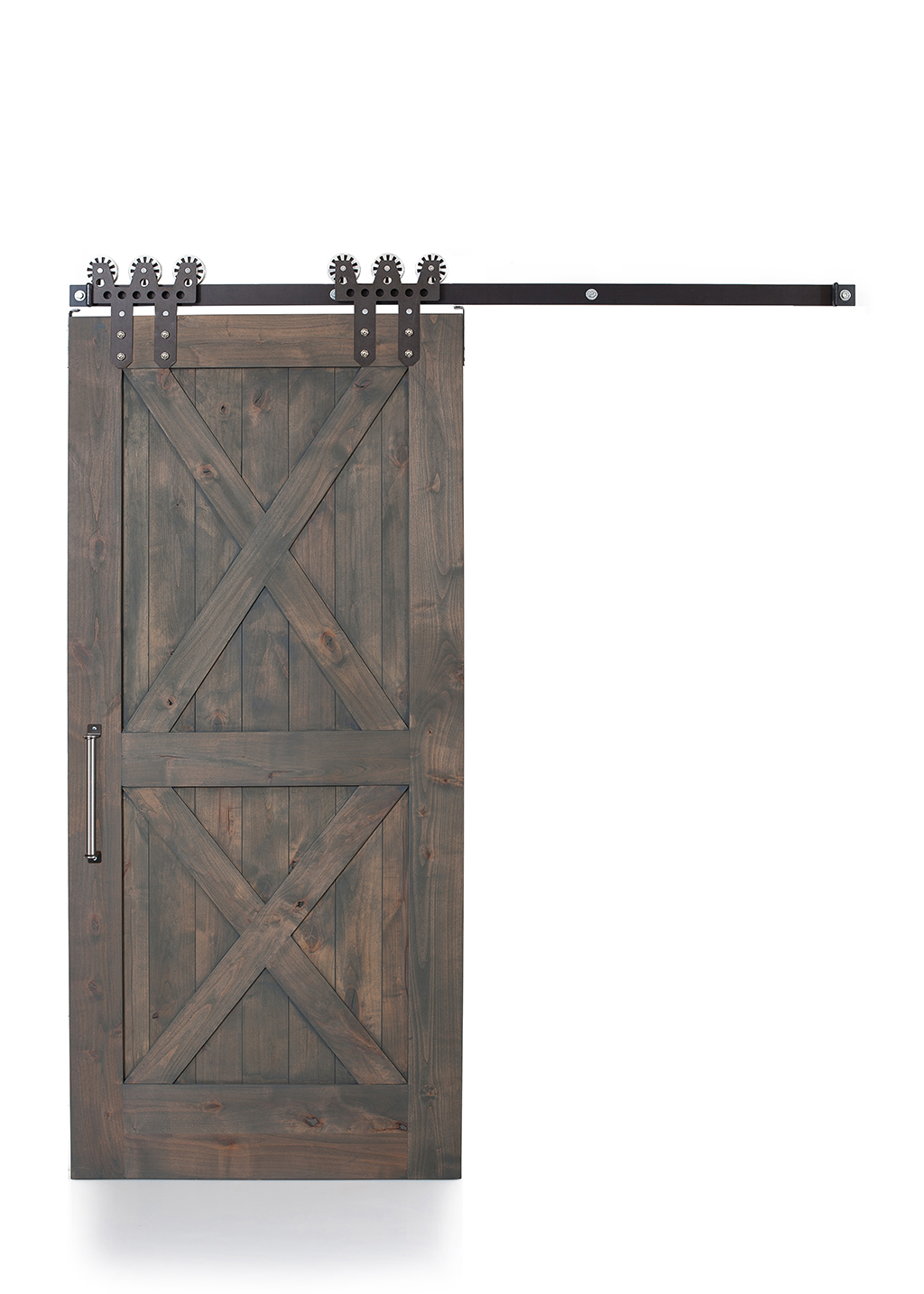 Half Barn Door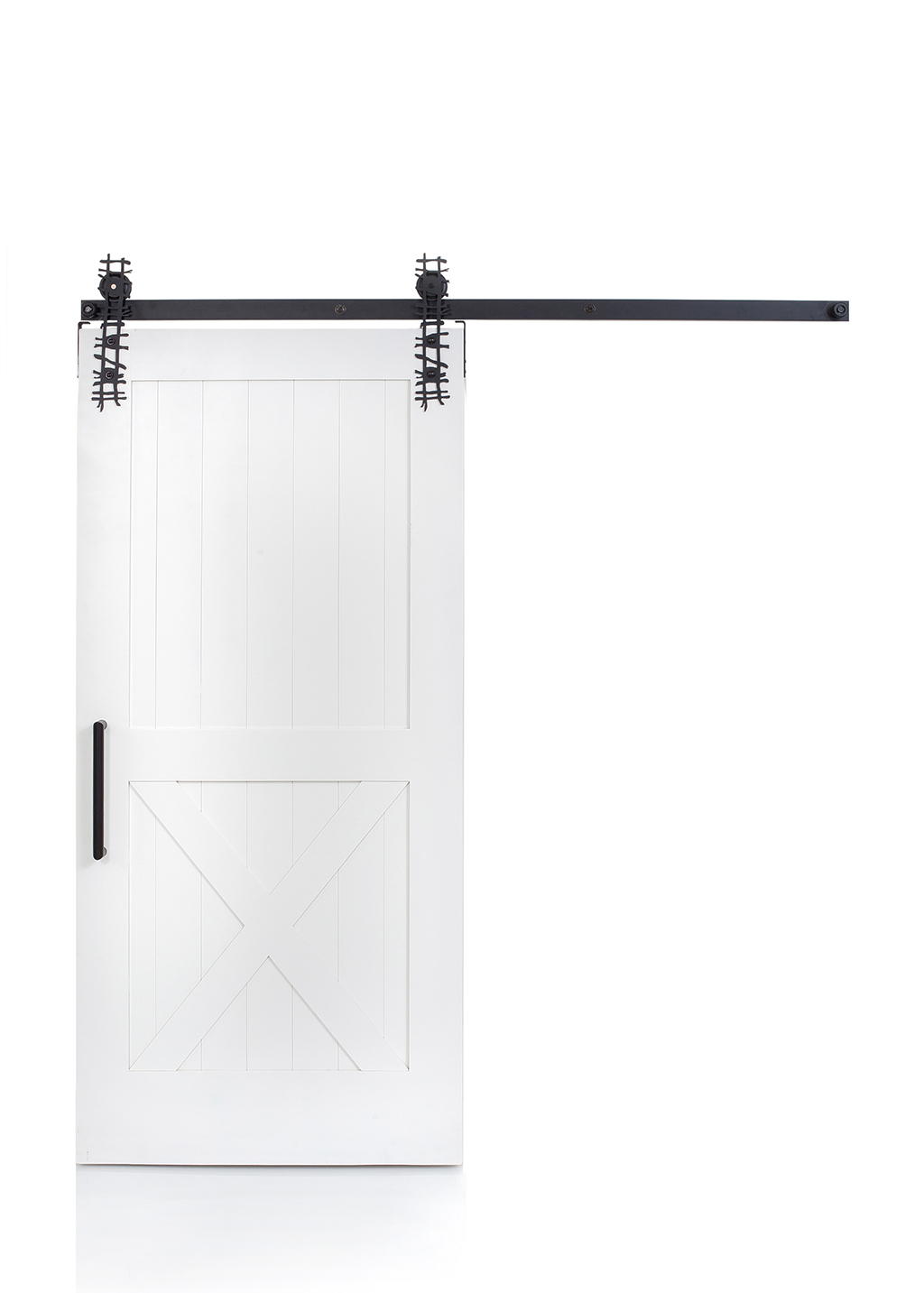 Interior Barn Doors for Your Home
Barn
doors offer many benefits that make it a smart and attractive solution to traditional doors and other
sliding door
styles. If you are pressed for space, a
sliding
barn door
is a great choice since they do not have a
door
swing like conventional doors. They are also easy to open, making them a good option for families with small children.
Sliding
barn
doors
are available as single-hung
barn door
panels
or double doors and come in a number of materials, including
wood
, metal, and glass. They enhance the overall style and design of a
room
and have become an integral part of many homes.
Barn
doors have expanded beyond the
living room
and bedroom and can be added to nearly every
room
in your home.
Are you interested in installing interior
barn
doors? Rustica has a wide range of high-
quality
door
panels and
barn door
hardware
options to help you make a beautiful statement in your home.
If you've found something that sparks inspiration for your home design,
contact us today
!
Browse our sliding barn doors and swinging barn doors or contact us to discuss a custom project. Select the materials, design, and hardware for your barn door and enjoy the unique artistic element it adds to your home.