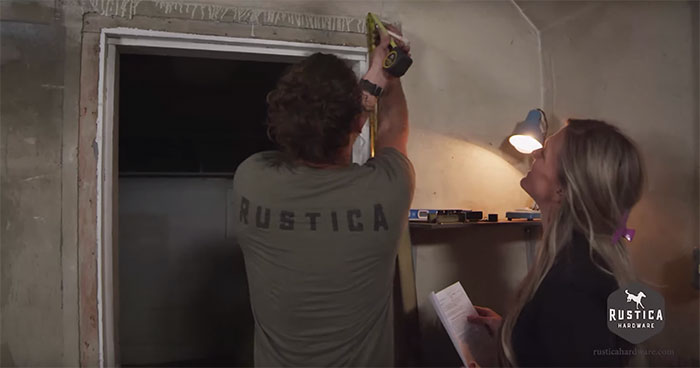 When it comes to deciding on a sliding barn door for your home, it doesn't have to be a difficult installation process. In fact, these beautifully crafted, space-saving doors are quick and easy to install, and they'll be a hit among your guests if you like to entertain.
But before you get to sliding, you'll want to make sure you've got your door all sized up. Bust out your tape measurer and check out our tutorial on
how to measure your barn door
.
Know which room (or rooms) you're planning to outfit with a brand new sliding barn door? Got all your relevant measurements recorded? Great! Let's move on to the different sizes available:
Standard barn door sizes
Most barn door sizes fall anywhere between 36" wide (on the shorter side) by 96" tall (on the longer side). Generally, most standard barn doors are approximately 36" X 84" or 42" X 80" – with enough extra lip to overlap most standard door frames (36" X 80") by an inch or so.
However, we realize that not everyone has standard door openings, so we offer several sizes of sliding barn doors to help fit your needs with the following measurements:
36" x 80"
36" x 84"
36" x 96"
42" x 80"
42" x 84"
42" x 96"
These dimensions are typically more common for interior barn door sizes for areas like bedrooms and offices, as well as other entryways inside the house.
On the flipside, bigger doorways for rooms such as libraries, dens and living rooms typically have taller and wider dimensions. For wider areas, you need to take into consideration the amount of space on either side of the door in case you want to opt for a striking
double barn door
effect. Sizing for double barn doors could potentially use two 36" wide doors, or a custom option that best suits your home's dimensions. Which brings us to…
Custom barn doors for your home
If you don't see your door or entryway's specific dimensions here...Don't worry! You can rest assured knowing that we provide a wide range of customizable sliding barn door sizes to make whatever your unique measurement may be, work. Whether you have a narrow space to work with or vaulted ceilings and high entryways, we can customize a sliding barn door to your specifications.
Our custom barn door options can be as narrow as 2 ft wide to as high as 10 ft. tall. Simply, find a
style of barn door
that you love, then add your specifications to customize a door that works with your home's architecture. From there, we'll begin crafting the perfect "fashion meets function meets fit" barn door for your home.
The importance of track length
It's also important to note that when measuring your door for its desired size, you'll want to take into account the
door track length
, which is typically between 72" to 84". (Potentially longer for double barn doors.)
In order for your door to
seamlessly slide across the track
, make sure that the length of the door's track is at least twice as wide as the door itself -- or even a few inches longer. This will ensure that, when closed, your door won't fail to cover the entire opening, leading to light and sound leakage.
Whether your home lends itself to a standard sized barn door or if you need a more narrow or taller door to fulfill your unique needs, we offer a variety of standard and custom barn door sizes (and hardware) to make sure you get the
sliding door
of your home decor dreams.