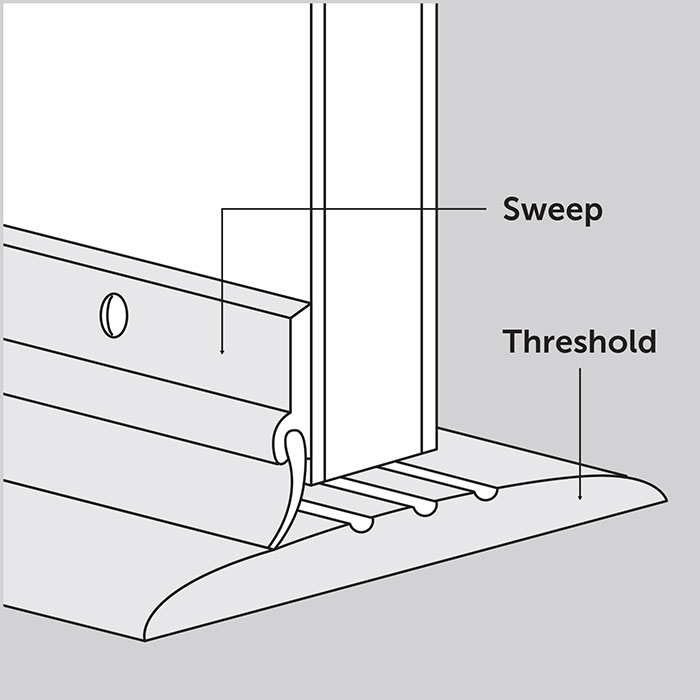 We know you have questions and who better to answer them then our expert craftsmen! Our builders have taken some frequently asked questions and answered them in as much detail as possible. Each week we will be having one of our experts answer a question in our series Answered by Our Experts.
Door sweeps are pretty important and necessary for exterior doors. A door sweep seals the gap between the door and the threshold. A door sweep also helps protect you from moisture, dust and insects. You'll even save a bit of money on heating and cooling!
Since it's clear that we feel like door sweeps are pretty essential, you can probably safely guess that we provide door sweeps for exterior doors, but just to make it clear our expert Pat King expounds on that.
Are door sweeps included on your exterior doors?
Yes. We install a sweep on all exterior doors. Whether it is a slab only or prehung unit they all receive a sweep. We use an aluminum sweep with a replaceable rubber strip.
-Pat King, Hinged Door Manager
There you have it! You can take comfort in knowing that we care about the little details here at Rustica. Door sweeps might be small, but they do make a big difference even if they just keep your home a little cleaner.
Our experts are standing by to answer all of your questions about our products and then some. Our team is extremely knowledgeable and can't wait to help you. If you have a question that you would like answered by our experts, let us know! We would love to help! And who knows, maybe your question will end up on our next Answered by Our Experts.