We know you have questions and who better to answer them then our expert craftsmen! Our builders have taken some frequently asked questions and answered them in as much detail as possible. Each week we will be having one of our experts answer a question in our series
Answered by Our Experts
.
It doesn't matter if they are interior or exterior, we strive to build the best doors in the industry. Wood is a tricky thing, especially when you involve other elements like weather. Depending on the climate, wood can expand or split. Obviously, that would be frustrating for customers, so we try to make the best outdoor-rated doors possible. Using the right kind of materials is what helps keep these things from happening. Our expert on hinged doors, Pat King, explains how we make our exterior doors outdoor rated.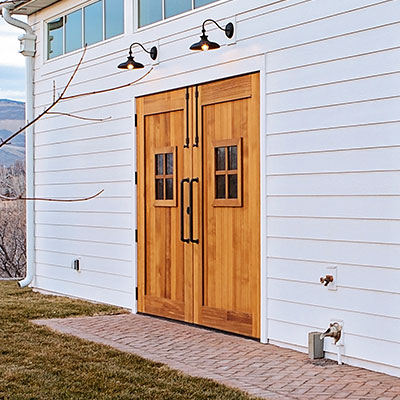 What Makes Your Exterior Doors Outdoor Rated?
It all starts with the way we manufacture our stile and rail materials with an LVL core which ensures that the product will not warp when exposed to the temperature changes. After that, we use a glue that is rated for exterior use. It is waterproof and remains elastic after cured so as the wood expands and contracts the joints are not compromised. Along with that, we use a filler material on all of the knots on the exterior face of the door so there aren't any points of entry for moisture to get into the core of the door. If the door has a glass unit we use double-paned tempered glass and install that with an exterior rated glazing tape.
-Pat King, Hinged Door Manager
You can take confidence in knowing that our exterior doors are top-notch. Although rare, sometimes things happen to your wood door despite all of our extra measures. But don't worry! If you chose to have your door finished in one of our finishes, it is under warranty and we'll take care of you.
We hope you've learned something from this week's
Answered by Our Experts
if you have a question you want answered, share it with us! Who knows, maybe yours will be featured on our next
Answered by Our Experts
blog post.