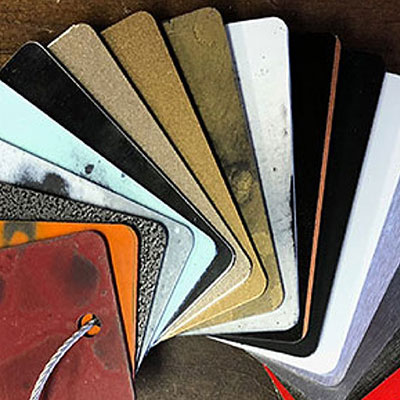 We know you have questions and who better to answer them then our expert craftsmen! Our builders have taken some frequently asked questions and answered them in as much detail as possible. Each week we will be having one of our experts answer a question in our series
Answered by Our Experts
.
We want you to be able to create the exact door you've been looking for. That includes having the perfect finish on your door. We provide a number of different finish options, but sometimes we don't offer the one you want. If that is the case, we do have a custom color option that you can select. Our expert, Andrew Mesterheide explains how that process works.
How can I get a Custom Finish?
Custom finishes can be created in a number of ways but usually, we will have a customer give us a sample of what it is they're looking for or try to explain in detail. Our manager and supervisor of paint will specifically create sample pieces for that particular finish. The finish will either be mailed or pictures can be sent to the customer for approval.
-
Andrew Mesterheide, Paint at Rustica
Choosing your own custom color is a bit of a process and it can be a little pricey. Another option, if you aren't seeing any finishes you like, is to order your door unfinished. You will be able to finish the door yourself in whatever paint or saint you prefer. This is a great option if you are trying to match a certain color. The only downside is that if we do not finish the door, it only comes with a 30-day warranty. Wood doors need to be finished right away so that they do not warp.
We hope you've learned something from this week's
Answered by Our Experts
if you have a question you want answered, share it with us! Who knows, maybe yours will be featured on our next
Answered by Our Experts
blog post.