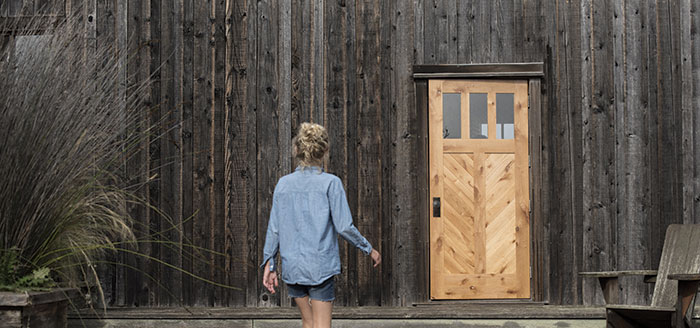 Ever wonder what certain parts are called? Read below to learn definitions of some of the hardware that goes into making our amazing doors.
Entry:
A handleset with a keyed deadbolt mostly used on exterior doors for entry into the home. Traditionally available in Full Length, Monolithic or Sectional styles. Entry handlesets are designed to enhance the entrance to the home and set the entry apart from the other doors in the home. The other exterior doors for the home often have a deadbolt paired with a passage lever or knob. In cases where the door only has one borehole, key in knobs and levers are also available.
Privacy:
A handle set with a locking mechanism. Privacy handlesets usually have a push pin locking mechanism and are commonly used in a bathroom or bedroom . Most will have an emergency egress to unlock the door from the exterior.
Passage:
A handle set without an internal locking mechanism. A passage set is used on a door not requiring privacy, for example; between a living room and a kitchen or closet needing a latch. Most often used for interior doors or paired with a deadbolt for exterior doors.
Dummy:
Dummy sets have no latch and are surface mounted therefore they do not need a bore hole. As there is no latch with this hardware, a locking mechanisms such as a ball catch or roller catch are usually required to keep the door closed.
Bore Hole:
A hole in the door where the door knob and latch are mounted. Most bore holes are 2 ⅛" in diameter. For interior doors requiring only a knob or lever there is usually only one. For entry doors or doors requiring a deadbolt, a double bore is usually required. The industry standard between the bore holes, called a center to center measurement, is 5 ½" apart which lines up with most entry handlesets. Part of the boring service includes a smaller hole in the edge of the door that allows the latch to work.
Door Thickness:
Door thickness can very with different door styles and functions and is the measurement of the thickness of the edge of the door. Exterior doors are often thicker than interior doors. It is important to properly measure and provide the door thickness to ensure the hardware can accommodate the door. In some cases a special door kit is required if the door is thinner or thicker than what the hardware is designed for.
Single and Double Cylinder Deadbolts:
Deadbolts are used to secure the door and are available with single or double cylinders. Deadbolts do not have an emergency egress, however often an interconnect device is available to assist in ease of exit for emergency situations. Single cylinder are the most commonly used and have a keyed cylinder on the exterior of the door and a turn piece used to lock and unlock the door from the interior. A double cylinder lock have a keyed cylinder on the interior and exterior. Both sides need the key to unlock therefore are not recommended for most exterior applications as the key is needed and may be difficult to access in an emergency. However, this application is often used where there is a concern with glass doors as an intruder would not be able to break the glass and unlock the door.
Note:
Deadbolts are also available as single sided for unique applications.
Interconnect Device:
This device is used behind the entry door plate to connect the lever to the dead bolt mechanism. When the lever/knob is depressed it unlocks the deadbolt to exit. Available only for single cylinder deadbolts.
Tubular Entryset:
Tubular Entry sets will require two bore holes, one for the latch and the other for the deadbolt and are usually 5 ½" center to center apart.
Mortise Entryset:
Mortise locksets are a box style lock that is installed into a pocket or "mortise" in the edge of the door. The Mortise lock houses the latching and locking system for the door in one "box". A special door prep is required to ensure the pocket can properly accept the mortise lock. Backsets for mortise locks differ from tubular and the hardware specifications should be reviewed to ensure accuracy. Most common backsets are 2 ½" or 2 ¾".
Backset:
The backset is the distance from the edge of the door to the center of the bore hole. In the U.S. there are two common backsets for residential locks, 2-3/8" and 2-3/4". It is important to specify the correct backset in order for the door latch and/or deadbolt to function properly.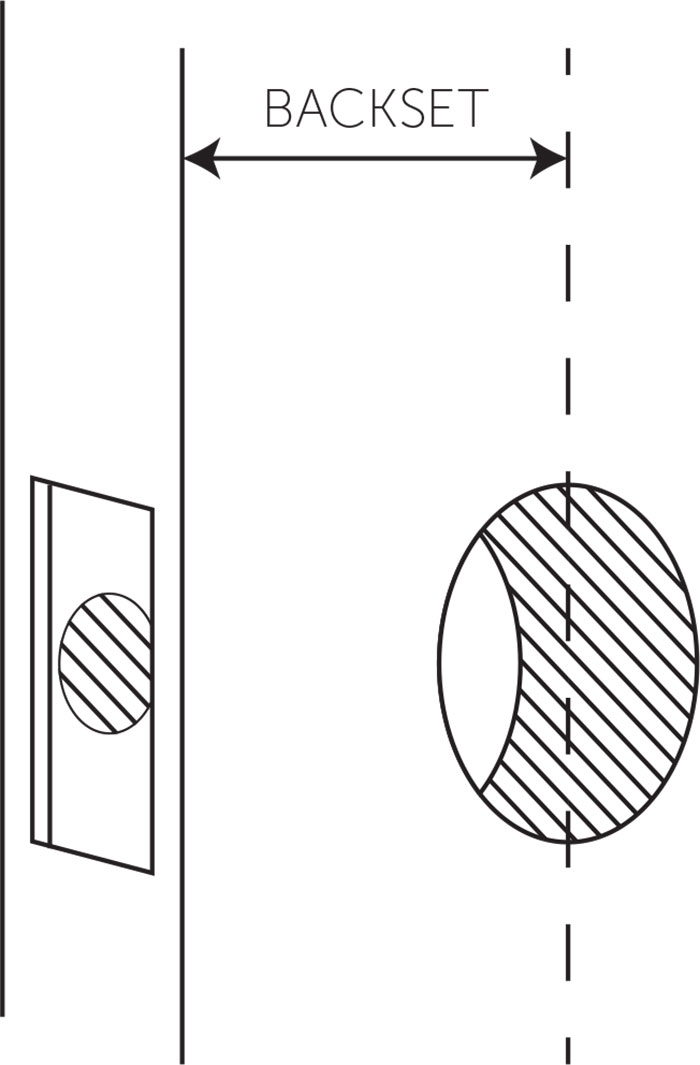 Handing:
Determining handing for door hardware is a different than determining handing for carpentry (ordering and hanging doors). If you follow the standard carpentry rules for handing door hardware, instead of following the diagram below, there is good chance you may end up with a lock that is handed incorrectly.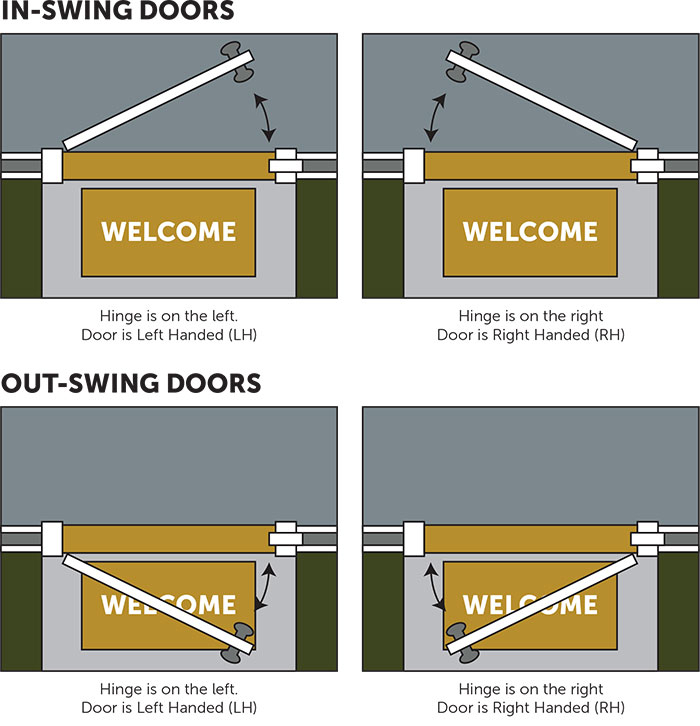 Handing is required for all items EXCEPT:
Leversets with Round Rosettes: Dummy Function
Keyed Leversets with Sideplates: Dummy Function
Entrysets with Inside Knob
Knobsets: Any Function
Below are some Unique Applications that you may not know about:
Double or French Style Doors:
Some entry doors are double doors with one active door and one inactive door. The active door will have functioning hardware and it is the door that latches to the inactive door. The inactive will often have dummy hardware so both doors look like they have hardware. The inactive door will need flush bolts to keep it in the closed position. This same application is often used for interior doors and in this instance usually have passage or privacy hardware on the active door and a dummy set on the inactive door. Most commonly used for master suite entry, family rooms or kitchens.
Dutch Style Doors:
This application is great for exterior and interior applications. Typically used for exterior applications. Dutch doors are a full door size which is divided to allow the top section to be open to allow for airflow while the bottom section remains securely shut. Unique in nature this door requires either a split entry set or passage handleset for the lower section and a deadbolt for the upper.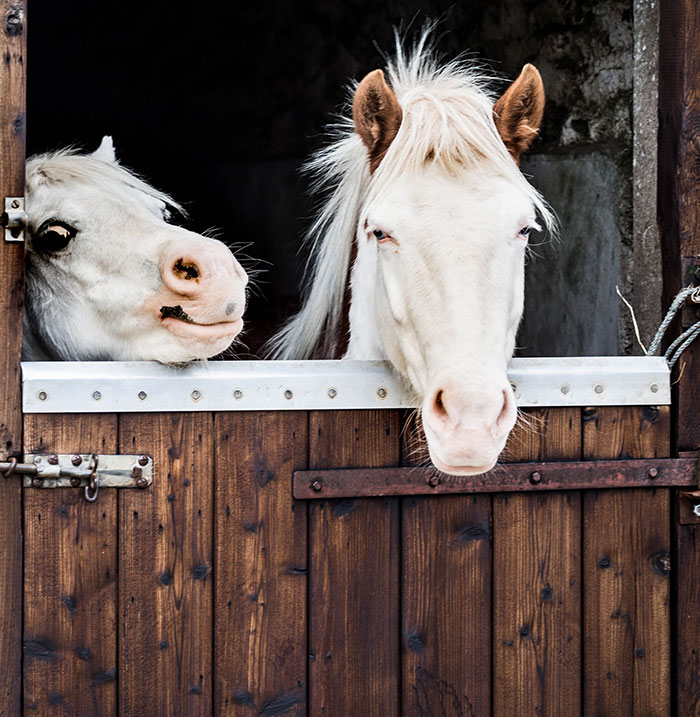 Not only are doors artistic and functional, they also involve lots of parts and applications. Now go and impress your friends with your newfound knowledge and don't forget to visit our site
here
to create your own masterpiece. Also check out our line of passage/privacy levers here:
https://rusticahardware.com/passage-privacy-levers/
.