Now that it's officially October, let's talk fall porch decor ideas! The leaves are changing, the temperatures are dropping, and local farmers markets are officially starting to sell their pumpkins, if you don't get your porch decorated soon, you might just miss your opportunity! There are many ways you can decorate your porch for fall from pumpkins to wreaths and today we are going to highlight 5 trending fall porch decor ideas in hopes to help you get started!
1. Pumpkins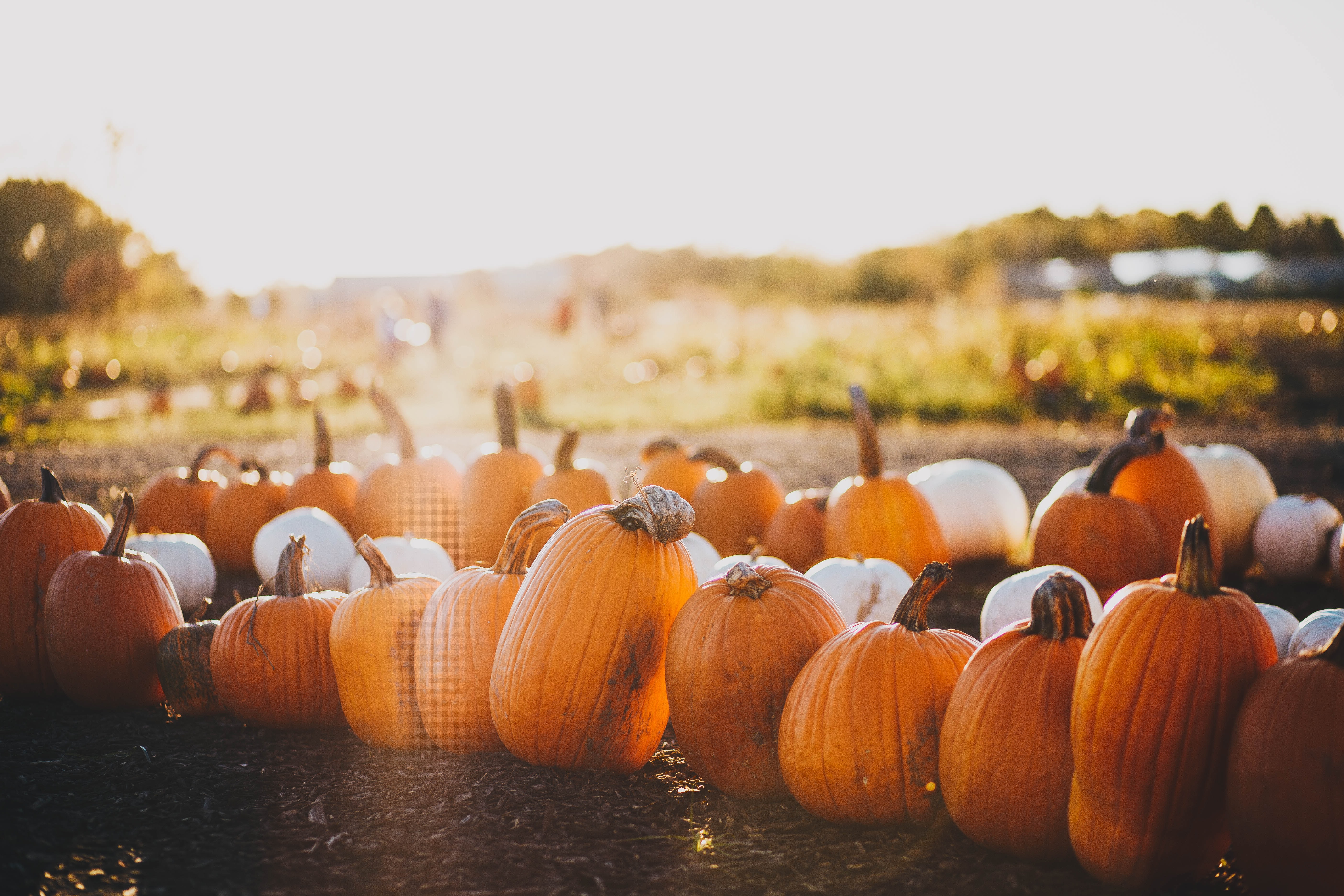 First let's talk pumpkins. Pumpkins are a very traditional way to decorate a porch for fall and Halloween, but over the years we've seen a large increase in amounts and colors of pumpkins that people use on their porches. It's great to have some diversity between your pumpkins in color, texture, and size to bring contrast and interest to your porch. You can place pumpkins next to your
front door
and down the stairs leading to your porch if you have them! The more the merrier in this case!
2. Lanterns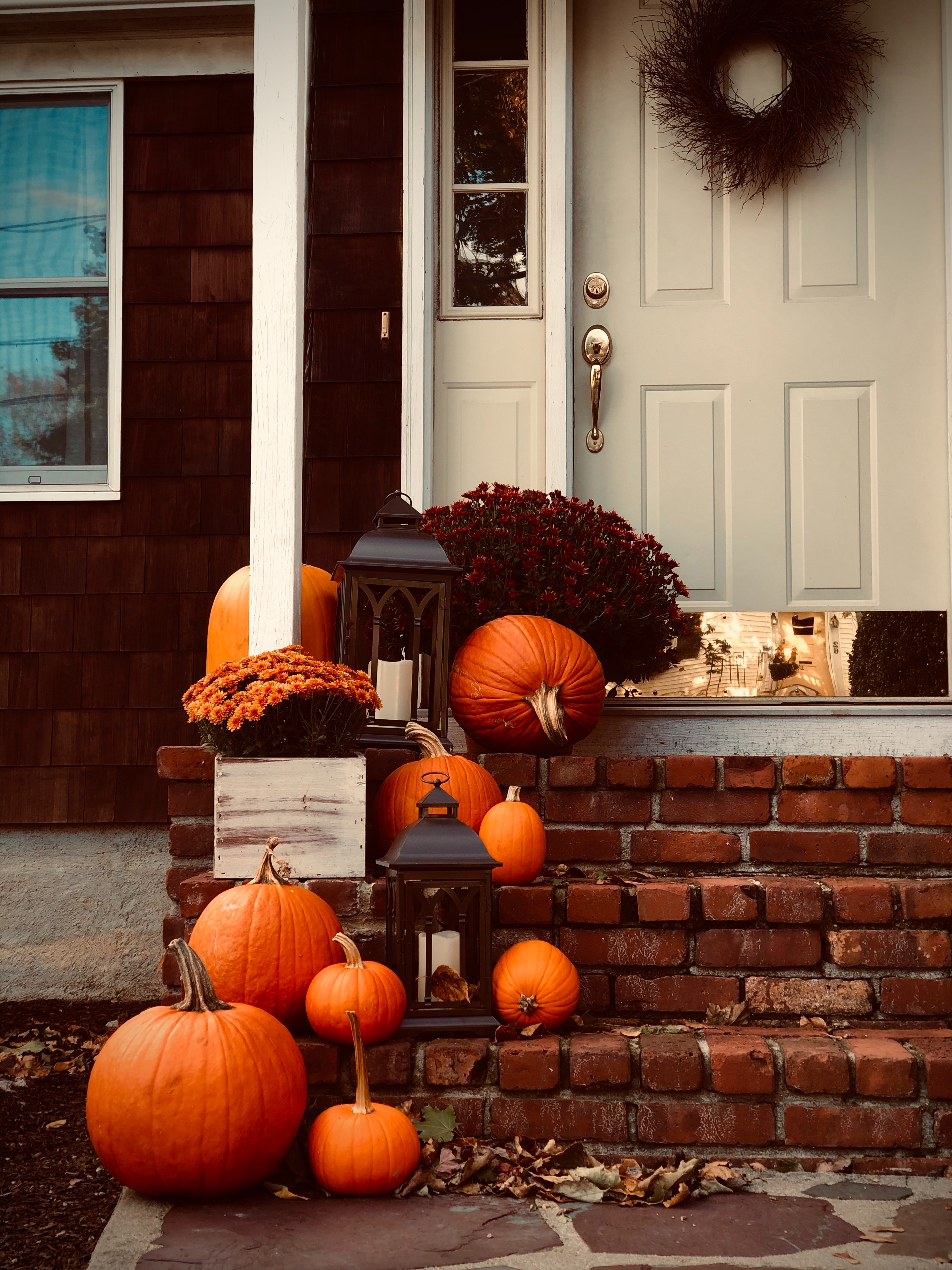 Now that we've got the obvious one out of the way lets talk lanterns. Lanterns are a fun new twist to porch decor that we've seen become more and more popular over the last 2 years. Lanterns are great porch items because they can hold candles to help light your porch and they can be accompanied by just about anything and still look great! You can use lanterns next to your front door accompanied by a few pumpkins or you can place them down your stairs leading to your porch for a nicely lit walkway!
3. Wreaths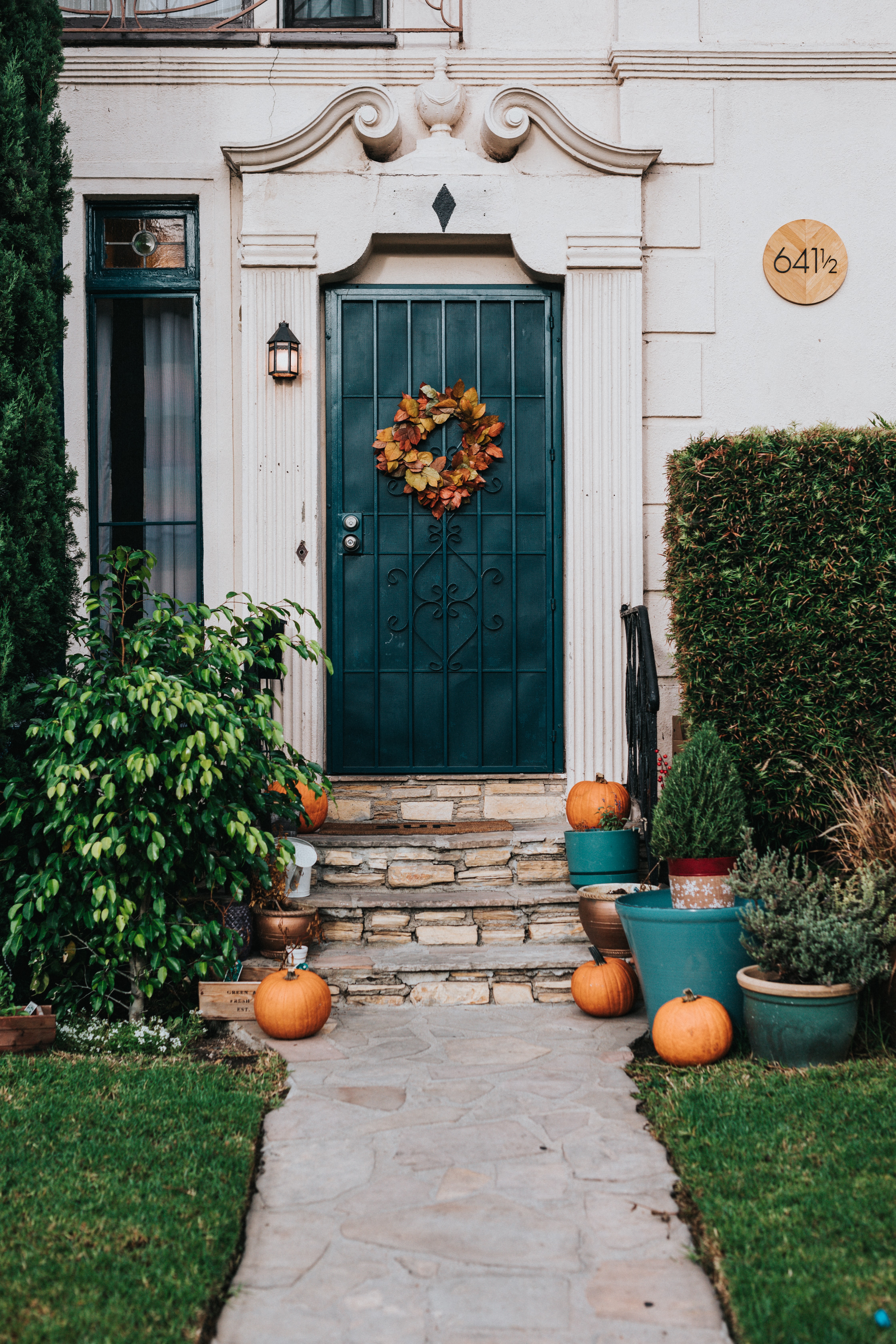 Imagine a stunning fall wreath made from all things fall hanging on a beautifully stained cedar
front door
! Wreaths are easy and fun because there are thousands of different designs made of thousands of different materials. You can even put one together yourself if you'd like! Lately we've been seeing more of a wild style wreath than a clean cookie cutter style, like wreaths made from different kinds of grasses, leaves, and things you might find up the canyon during the fall! These types of wreaths will give your porch a more natural and outdoorsy feel.
4. Chrysanthemums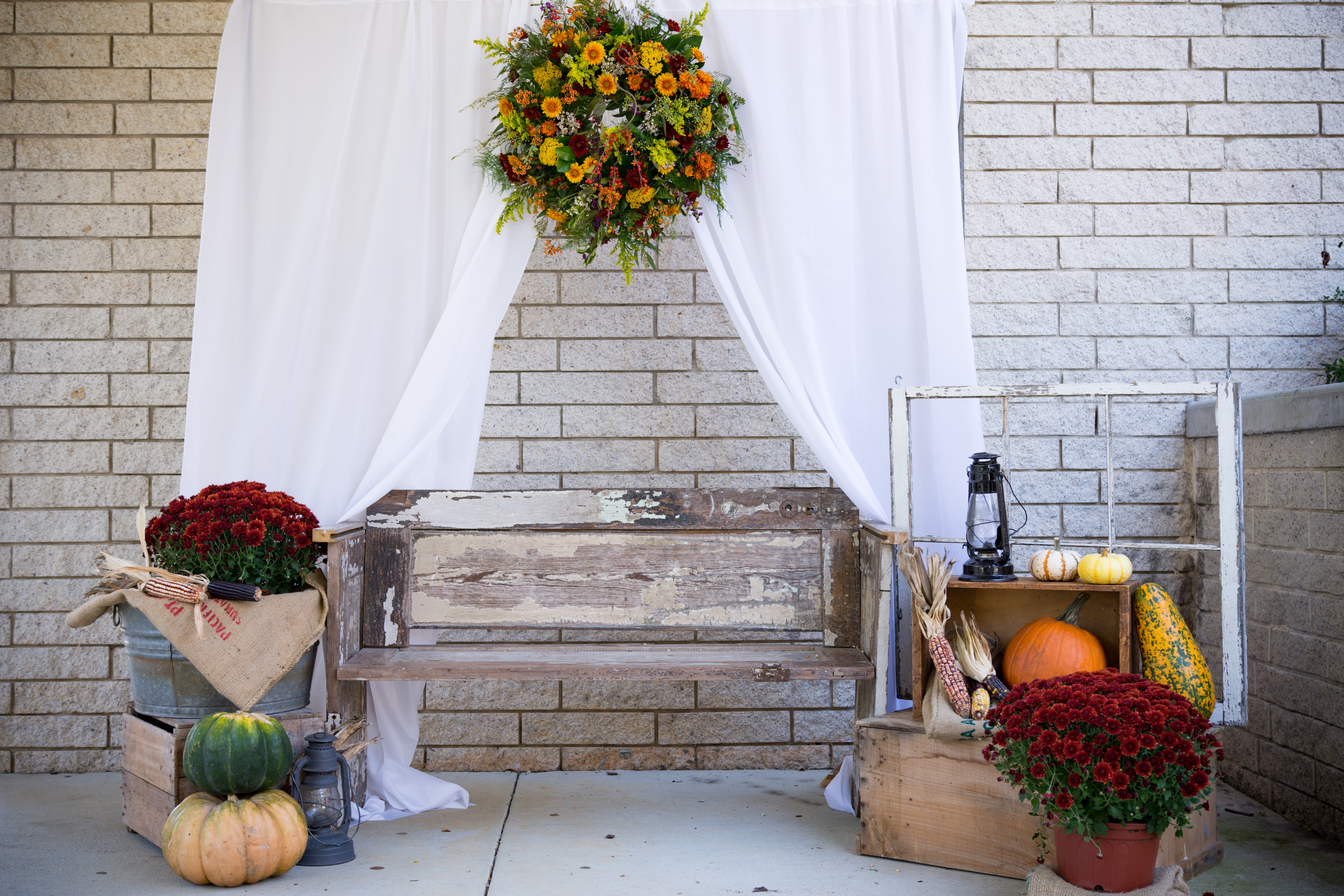 Chrysanthemums are very popular in the fall due to their late blooming nature. They come in many different colors including fall colors like red, orange, and yellow that are super popular for fall porch decor. Chrysanthemums grow in small bushels that look great when put in different styles and sizes of pots. You can feature a few different colors of mums or you can feature just one color, either way adding mums to your fall porch decor will bring color and a liveliness to your home!
5. Corn Stalks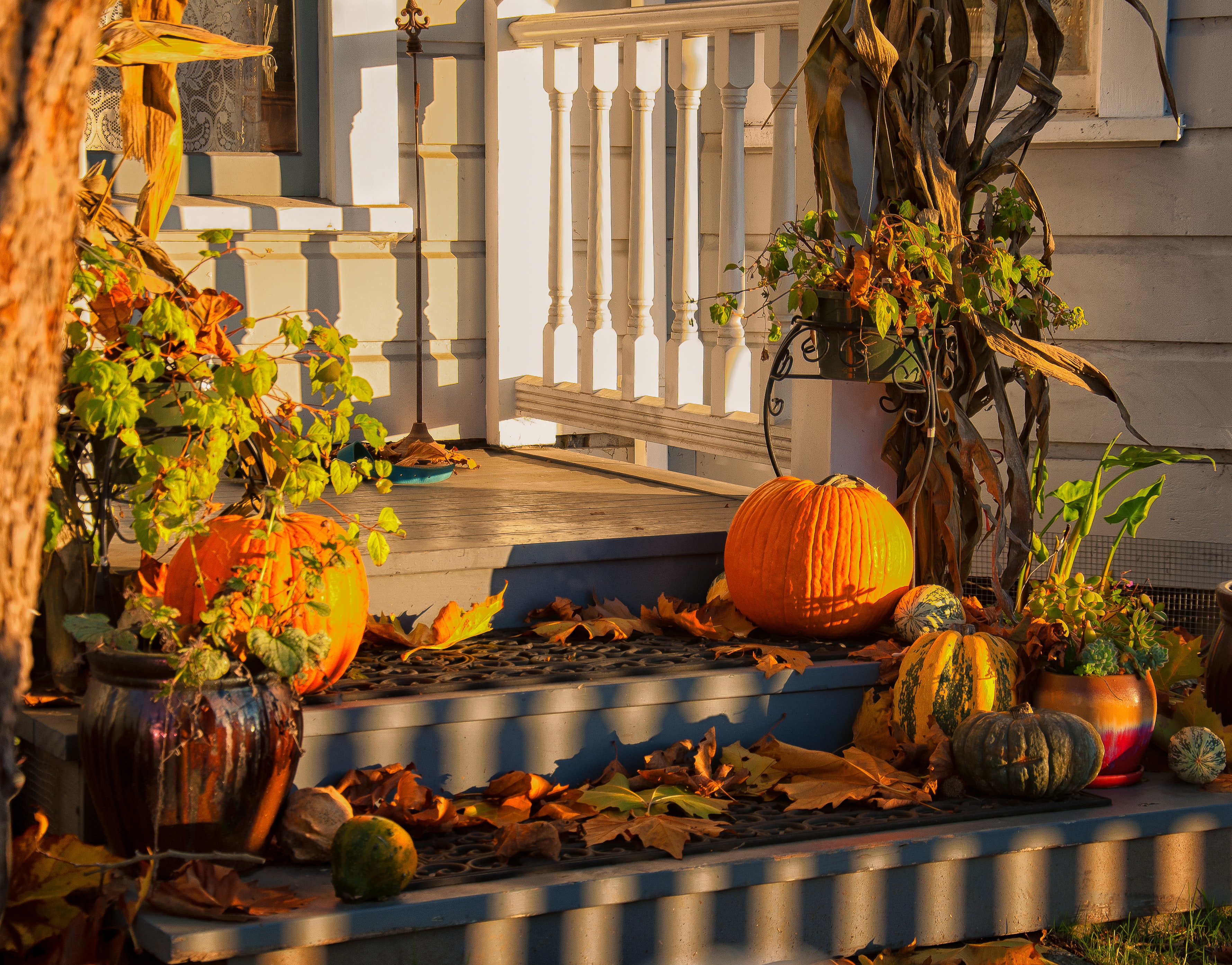 Corn mazes and pumpkin patches are some of the many beauties we get to enjoy during the fall and many people are bringing those joys to their home and turning them into statement pieces! Corn stalks tied around pillars on the porch are definitely trending this year and we are here for it! Corn stalks that have changed in color are either being tied to a pillar on the porch or put in a pot and placed next to the front door for a fun fall look! If you're looking for a fun fall DIY project go out and find some corn stalks!
Nowadays really anything goes, but we hope to have enlightened you on the trending fall porch decorations and how you can incorporate them into your porch decor! Fall is here! Don't blink or you just might miss it!
Tag us in all of your fall porch pictures on Instagram and Facebook! If you'd like a stunning front door to go with all of that stunning porch decor
click here
to shop!