What is the "T" for? The "T" is for Together.
For years weekend warriors have taken on home improvement projects and up to this point, the DIY'er (Do It Yourselfer) has walked the path of remodeling primarily alone.
We say NO MORE! And Rustica is starting a revolution to bring soul to your living space while locking arms with your DIT partner. Why not?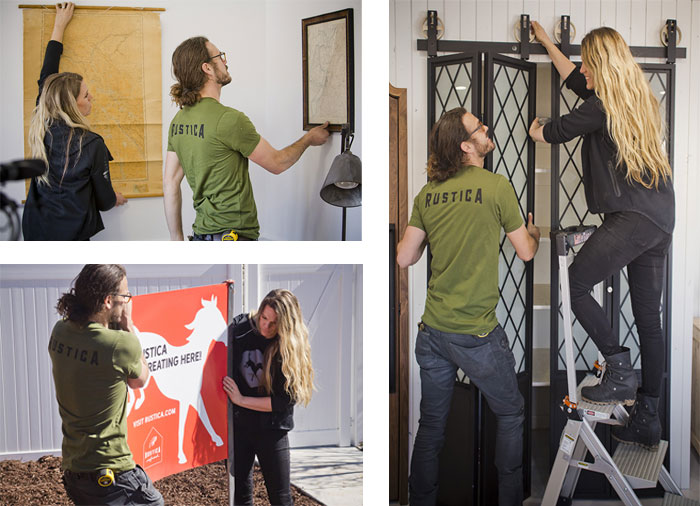 Well, there are some serious obstacles to overcome when you decide to work together to solve your home renovation problems versus solving them on your own.
We have all been there.
You have a great idea of what color to paint a room but your partner has something different in mind. You know that a new cabinet configuration for the kitchen is more important than new hardwood floors. Also what finish is desired for the door knobs? How should we lay out the new addition? Should we add carpet or tile?
Here are 4 simple DIT ideas to try when you find yourself ready for the next remodel project:
1–Talk, but don't talk.
Communication is much more than just talking and sharing opinions and ideas. Actively listening helps you see things from another's perspective.
Our tip for this:
Use the "tell me more" skill.
Here's an example: You want white cabinets and your partner wants a dark stain. Instead of "Why do you want dark cabinets?" say "Tell me more about that idea."
2–Take responsibility.
Owning up to mistakes during any project builds trust and respect. When you accidentally nail the wrong side of the baseboard up, take a minute to laugh it off and pass that same goodness on to your partner.
Our tip:
Purposely sabotage (in a non-backward kinda way) the project that your partner is working on for an easy laugh.
3–Connect.
It's easy to become overwhelmed by any home improvement project. You and your partner will know when you are at that point. When you get there remember that finishing the project comes second to your relationship. Set aside time to connect.
Our tip:
Date night once a week without cell phones.
4–Change.
Just as our home improvement remodeling projects change, people do as well. The greatest benefit from Do it Together verses Do It Yourself, is that you do end up changing for the best. You change to be better for someone else. Becoming more open to your partner's ideas and putting someone before yourself are great building blocks to the most beautiful future together.
Our tip:
Expect change so that you aren't disappointed.
Follow these simple steps and in no time at all, you'll be a believer in our Do It Together philosophy