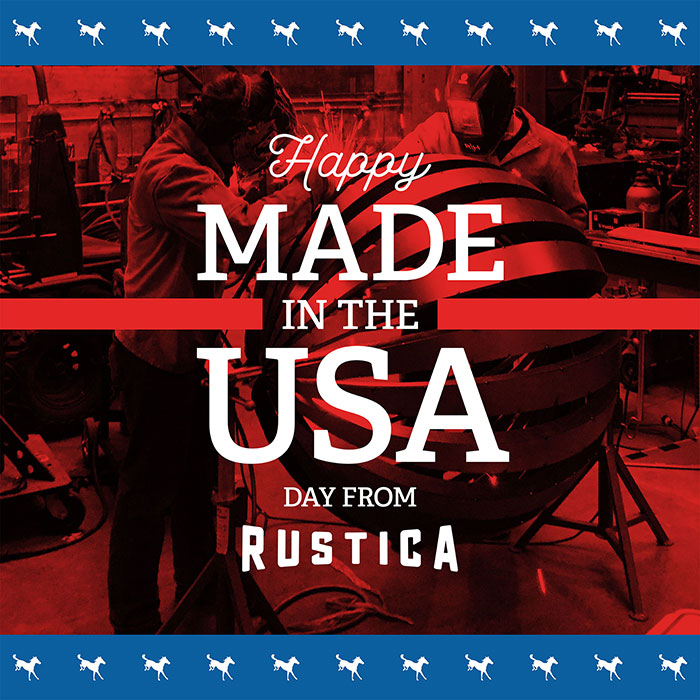 Rustica has been manufacturing soulful goods for over 15 years now. Located in Art City–Springville, Utah, we pride ourselves on being a true USA manufacturer of home and office products made from scratch and sold direct to customers. Sourcing raw materials domestically and providing jobs to hundreds of craftsmen and women is part of the Rustica way. We understand that our economy has become increasingly global and it is becoming somewhat of a dying art to manufacture architectural products in the United States. Rustica is proud of our Made in the USA mark of quality. To qualify for a true Made in the USA mark, a company certifies that their product is "all or virtually all" made in the United States. The label is regulated by the Federal Trade Commission, or FTC. Rustica does qualify as we manufactures our product completely from scratch, even our door boxes for shipping out our orders are custom made by us!
Here is our list of top selling products made entirely from scratch in the USA by Rustica Craftsmen and Craftswomen:
The patented Rustica adjustable barn door spacer.
Our barn door kit. We are the original inventor of the barn door kit.
The "X" Barn Door. Made of solid wood and anti-warping lumber.
The "Z" Barn Door. Made of alder, anti-warping lumber and a top selling door style.
Our "Stag" classic and industrial barn door hardware is the original barn door hardware system created by Rustica.
The "Low Clearance Barn Door Hardware" system solves small space design needs.
Stunning front entry doors as single doors with jambs, doors with sidelites and transom windows.
Dutch doors made from metal and solid wood.
Barn doors with mirrors.
Barn doors with chalkboard inserts.
Sliding french-style barn doors with glass options.
Bypassing barn door hardware. Rustica created the original light duty standard and heavy duty bypassing barn door hardware flat track system.
Metal pocket doors.
Wooden pocket doors with farmhouse and rustic styles.
Leather wrapped barn door pulls.
Mortised barn door pulls. Perfect for the back side of sliding barn doors.
Solid wood mantels. Custom mantels are an option as well because Rustica manufactures each mantel from scratch. We can build to your size.
Shiplap siding for indoor and outdoor use.
Farmhouse tables with solid wood tops and customizable finishes.
Adjustable desks made from solid wood and premium steel.
Office dividers with clear or frosted glass windows.
French-style doors with customizable metal grids.
Lactation pods for nursing mothers. Perfect for shared office workplaces and airports.
Office phone booths. Taking private calls at the shared office space is such a perk.
Rustica's outdoor and indoor extra large metal planters are stunning.
Solid wood butcher block countertops with food grade top coatings.
Family-sized porch swing kits made from cedar or alder wood.
Outdoor metal signs customizable with family names and quotes.
Reclaimed barn wood mantels and real barn wood doors.
And last but not least.... Rustica's famous and patented barn door lock is made from scratch, machined and built right here in our shop
Shop with us on
Rustica.com
for made in the USA architectural products for the home and office and bring some American soul into your space.